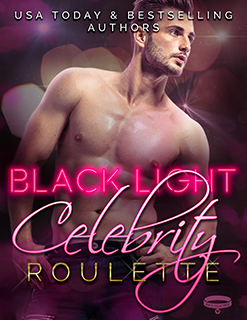 $6.99 / $22.99
Publisher:

Black Collar Press

Available in:

Kindle, Kindle Unlimited, Paperback

Published:

February 6, 2019
Amazon
How high would you bid for a fantasy night with your celebrity crush?
Black Light is back for the 3rd year in a row with nine *brand new* sexy stories set in their new West Coast club! This year you're invited to celebrate Valentine's Day VIP-style as Black Light combines their annual kinky game of BDSM roulette with a celebrity charity auction. Three hours of fun. Five hard limits.
We've loaded the wheel with naughty new kinks for our couples as they play to win a free month at the exclusive club… but there's more than money on the line when hearts get involved.
Drama, fame, and fantasies await if you're brave enough to spin the wheel!
—
Stories included in this anthology:
Guarded by Renee Rose
Guarding pop star Scarlett A wasn't just a job to me, it was a mission. Losing that position cut deep. That's why I put a second mortgage on my house for one night with her. Tonight she's going to discover a different side of me. I'll be the boss. And she'll be the one on her knees begging.
Switched by Livia Grant 
Two dominants in one game of submission is one too many.  Will the spin of the wheel melt Mistress Ice or will Master Nolan get switched… literally.
Determined by Maren Smith
Claire was determined. Determined to win male-model Adam Butler for her first BDSM scene. And especially, determined to finally know what a spanking feels like. There's only one problem: this is Black Light and on Roulette night, nothing goes as planned…
Hooked by Jennifer Bene 
A ballerina, a soloist, and Wyatt Strickland's obsession. Vanessa is the girl of his dreams. Perfect. Too perfect for a man like him, but if there's a chance to get her hooked, it's Roulette. And Wyatt isn't going to miss his chance.
Pressure by Measha Stone
Michele was comfortable staying in her little box, nicely hidden from view. Except the universe had other plans, and so did Egan. Nothing like a little pressure to set her heart on fire. 
Savor by Maggie Ryan 
As a chef, Ronan is used to having his every command obeyed–without question. Under his mastery, Carnegie will learn how to savor the pain and pleasure in life–one lick at a time.
Cherished by Sue Lyndon
She's a newbie. Innocent. Sweet. F*cking adorable. If calling him 'Daddy' makes her stammer and blush, just wait until he gets her into the nursery…
Jazzed by Lesley Clark 
Jazz has everything she's ever dreamed of – fame, money, and all the attention that comes with it. Michael has met all of his goals, but it isn't enough… can one night and three spins of the wheel give them both what they need?
Control by Dani René
For far too long I've craved to control her pleasure, to own her body. And now, I finally get my chance.
Related