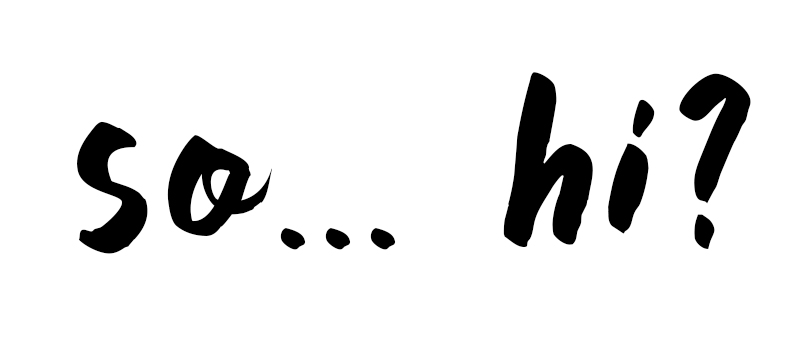 I know I've been gone for a long time, and I know that so many of you wonderful lovelies have reached out through FB, Twitter, and email, and I've been awkwardly silent. Honestly, I haven't been on FB at all in over a month. Pretty much the only people who were able to get a peep from me are those who have my cell phone number to text me. And I know I owe you guys at least some semblance of an explanation, so here's my best attempt (with GIFs where possible).
But for those not in the mood to read about my life, just know I'm sorry I've been gone, and know that I'm working to get back on track.
For those who want to, here it is. <3
You know that feeling you get when everything is going great and you start to get really nervous because you're waiting for the other shoe to drop? For something bad to happen to balance out all of the good stuff? Like you're walking a very thin rope over disaster, just trying to keep everything going so you don't fall?
No? Well, maybe that's just me.
I'm a realist, and on the spectrum of optimist to pessimist I generally lean towards cautiously pessimistic to prepare myself for disaster (and it blends oh so seamlessly with my anxiety)… but, whether you're an optimist / realist / pessimist you probably know what I'm talking about by now, and in December and January I was riding a high like no other. 'Destruction' was killing it, people were loving 'Imperfect Monster', and we had the next Black Light Roulette box set getting ready to go. I felt amazing. It was like I finally felt like I'd figured out this whole author thing.
On top of that I got a major promotion at work, one I've been working towards for three years. It was something I wanted really, really badly because I was already doing so many of the responsibilities – and when the stars suddenly aligned and I got the opportunity (and the job) I felt like I had exploded through Cloud 9 and into the stratosphere of unbelievable good luck.
My kiddo was doing better, my mom was feeling well, everything just seemed to be perfect.
Which, is kind of the issue. I want to be perfect all the time. I hold myself to that, and as many of you know by now, I'll kill myself to do it. I could almost see it from the very beginning, right after I took the new job at work, because the huge project I was supposed to take on in the role was… much larger than anyone involved had ever expected. It was one of those things where from afar it doesn't look like such a big deal, kind of like driving in the rain and seeing standing water on the road. It never looks deep, but sometimes it is. Sometimes it's deep enough to take you, the car, and the road with it.
In Texas they say "turn around, don't drown" all the time during epic storms, because as humans we have this weird sense of invincibility that we definitely shouldn't have. We drive the car straight into the water, and realize too late the water is deep, and we're fucked.
I was drowning pretty soon after I took on the project. We figured out just how screwed we were based on the deadline, and we got to work. Except, this was unlike any other work I've ever done for this company. At first it was just stress-filled days that left me exhausted in the evenings, ineffective at pretty much everything except keeping my kid alive. I managed to do a cursory edit on the Thalia series to get it ready for the epic re-release, and my PAs (Michelle Brown and Niki Roge) made miracles happen to help me get those books launched with any kind of fanfare. The covers were gorgeous, people loved them, and then Amazon bitch-slapped many of us into erotica categories (and I still don't have some of my books fixed) and fucked up the connections on the ebooks to new paperbacks, which took every ounce of energy I had at night to try and fix.
And then things just got worse.
The Dark and the Day Job

As my author stuff fell apart, with no new word counts, falling behind on promises and commitments and fixing KDP issues… work just went to hell. It was like every time we got one thing checked off, two more things exploded. There was always more to be done, and everything was urgent and important and omg on fire, Jen, we need to fix this right now. So, long stress-filled days turned into working nights and weekends. All of my usual "author time" was eaten up by this apocalyptic project that we had to get as close to perfect as possible because every leader in our company was aware of it, talking about it, and waiting for it.
And I was the main person for all of it. The project manager, the senior on it, the owner. I'd volunteered for it, and wanted it… and I still did. I just couldn't breathe, couldn't find a single moment to come up for air.
It was a never ending cacophony of chaos that seemed to only get worse and worse. I can't even explain how stressful it was, how exhausted I was, and how insane I felt to be spending every waking moment of my life on it with the ever looming deadline threatening to ruin everything we'd worked so hard for, threatening to destroy my reputation in this new position before I'd even had the chance to prove myself. I was running on empty, but there was no choice but to keep going.
During this mess we lost several employees on our team at work (people who could have been working on this project). Two got promoted to other positions, one quit, one went out on leave, and one position was never even back-filled from when it went empty last year. Our department had never been so understaffed in three years, and we were working on the largest scale project we had ever attempted in the shortest timeline we'd ever committed to. In the middle of this, my manager also got promoted and I got a new manager, the other manager in our department left, and if you've ever worked in a big company you probably have an understanding of the constant hum of internal screaming and anxiety / panic / fear that I lived with for months.
All of the light I'd started the year with was getting blotted out by the darkness, and I was getting sucked into the pit no matter how hard I clawed to stay up, to pull my head above water, and I hadn't even reached the bottom yet.
You know how people say things get worse before they get better? I hate how fucking true it is.
It had been months of killing myself for this project, and it was set to launch on April 9th. The week before that, I hit the lowest point in my corporate career that I ever have. You see, I don't write under my real name because I have a day job. I need my day job to pay my bills and take care of my daughter, because I'm a single mom, and I need health insurance, and a car, and an apartment, and currently author income just isn't reliable enough to do that. So, I protect my corporate career by using a pseudonym. I don't share my pseudonym with people very often, especially at work, because I don't want to lose my day job. It has always been my worst fear that somehow my company would find out what I write and either make my job life so uncomfortable I'd have no choice but to leave, or straight up fire me.
But, that's a ridiculous fear, right? Why would a company care what I do in my personal time?
I've seen people rant on social media about how people who write under pseudonyms are fake, or hiding, or whatever… but those people probably aren't facing the backlash that many of us are.
Before I continue, let's get one thing straight.
Pseudonyms are Fucking Important
And they should be respected, and protected, and if you are fucking lucky enough to learn the true identity of an author you should understand how precious that knowledge is.
Why am I on this soapbox?
Because the week before my giant monster of a project went live for pilot testing, the week when we were all working long hours to get every last minute thing done, when none of us were sleeping… someone called our anonymous HR report line and reported me for being an author, writing / promoting myself on company time, using company equipment, handing out "pornography", and a host of other ridiculous accusations that left me stunned and broken by the end of my investigation interview with one of our HR people. Someone who, by the way, I work with regularly in my position at my company.
This person not only revealed my pseudonym, but also provided links to all of my social media, my website, Black Collar Press, and links to my specific books on Amazon. I spent an hour being interviewed by HR about my "sadomasochistic sex books" and being asked whether or not I had ever "pushed pornography" on my coworkers, and a lot of other humiliating and traumatizing shit. This HR coworker of mine has read through my social media accounts and my website. She knows more about me than anyone at my job has any right to know. Then, they took my work laptop to have IT review it to see if I had done any of those things (which I had not), but it meant I wasn't able to work for an entire night on this insane project, while I waited to see if I'd be fired / written up / etc.
Now, I openly talk about myself here, I write the 'Ask Me Anything's to help people, and I do all of that under my pseudonym. I don't talk about those things at work, I don't do any of the things I was accused of by a person who was clearly after me for some insane reason, and while I am 99% sure who reported me… I don't know for sure, and I can't really say anything else on that topic except that I hope that karma is a bitch.
I was cleared by HR the next day, which was appropriate since I've never done anything author related on my work laptop, but as I told a few of my close friends… "You can't unring a bell." Whether or not I've been cleared of anything wrong at work, I still have to wonder now A) who knows this about me, B) who has looked up my information and now looks at me differently, and finally, C) how will this ultimately affect my career for as long as I have it.
All questions I can't answer, but honestly, I wish that was all that happened that week.
On top of all the chaos of the actual project and the looming deadline, the nightmare of an HR investigation, and my entire world crumbling around me – the Dom decided that now was the time for me to make a decision on whether or not I could make him a priority in my life.
It hit me out of left field, and was not what I had expected, but we've always had the agreement that this was about mutual gratification, and I wasn't available for him. In fact, I hadn't been available to him for weeks (between work and getting sick because of work and my kid's bday and everything else). So, I told him I would think about it and respond after I'd thought about it. And I did, and agreed that we should stop seeing each other because he deserves someone who can spend more time with him than I can. Not sure what that means for the future, and I have no idea what it really means at all actually, I just know that right now I'm too numb and overwhelmed to really process anything.
So, for now at least, the Dom is out of the picture.
Within all of this fucked up mess, my mom's health has been on a constant rollercoaster of chaotic ups and downs. One of my close friends who was my parent-with-cancer buddy lost her father, and it was a wake-up call that it really does end in death. All of it does. Everything. I tried to be there for her as much as I could, but I'm sure I failed her just as much as I have the Dom, my other friends, and all of you. I was at the hospital with my mom on Tuesday this week  looking at how skeletal she looks, how frighteningly frail and thin and weak, and it feels like a constant ticking clock that runs under my whole life.
Because, let's be honest, none of this is going to matter the day she dies. Not the day job, not authorlandia, not my responsibilities, or my commitments. I'll function for my kiddo, and that's it. Everything else is going to dissolve for a little while, and cancer is a blessing and a curse in the sense that I get to say all of the things I want to say to my mom, and I get to take photos, and do things for her, and hold her hand – but I also have to constantly ask myself "Is this it?" every time she gets really sick.
The rollercoaster of that is just one more piece of tinder on the overall dumpster fire that my life has been the last couple of months.
But, now you know why I haven't been around. Why I've been a total ghost, and haven't responded to your emails or your messages or comments or tags, etc. I am very slowly bringing myself back to reality, but reality is new and different now. So many things have shifted and changed. Work is a very different landscape, my home life is changing, my world is just… different, and I'm trying to figure out how to deal with all of it.
Just know that even when I disappear, I'm never ungrateful for everything you guys have done for me. You guys make all of this possible, and even the fact that you care when I disappear is incredibly uplifting and warming. I hope to one day be a full-time author so that my pseudonym doesn't matter quite so much, and then we can all look back on this dumpster fire and laugh about how terrified I was to lose my day job (or at least I can dream about it, right? borrow a little optimism from the optimists?).
The world is a pretty screwed up place, but at least we always have each other. We always have our tribe here that never judges us, or tries to ruin our lives, or tells us to pretend we're okay when we're definitely not. Because it's okay to not be okay sometimes, it's okay to be a dumpster fire sometimes, and it's okay to disappear when we need to and come back when we're ready.
"It's always darkest before the dawn."
Here's to the coming dawn, lovelies.