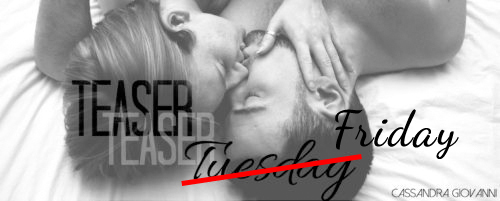 #TeaserFriday is here and you can't stop it! Didn't I tell you, lovelies, that I had a ton of books to share with you guys?! Of course, with the holiday season upon us there are always books themed around them, but with this badass group of ladies writing their naughty AP romance, you know this isn't just any story. 'A Daddy for Christmas' has stories from Sue Lyndon, Maren Smith, Katherine Deane, Kara Kelley, Adaline Raine, and Maggie Ryan! YOU CANNOT RESIST! Just check out the two teasers below for a taste!
* * *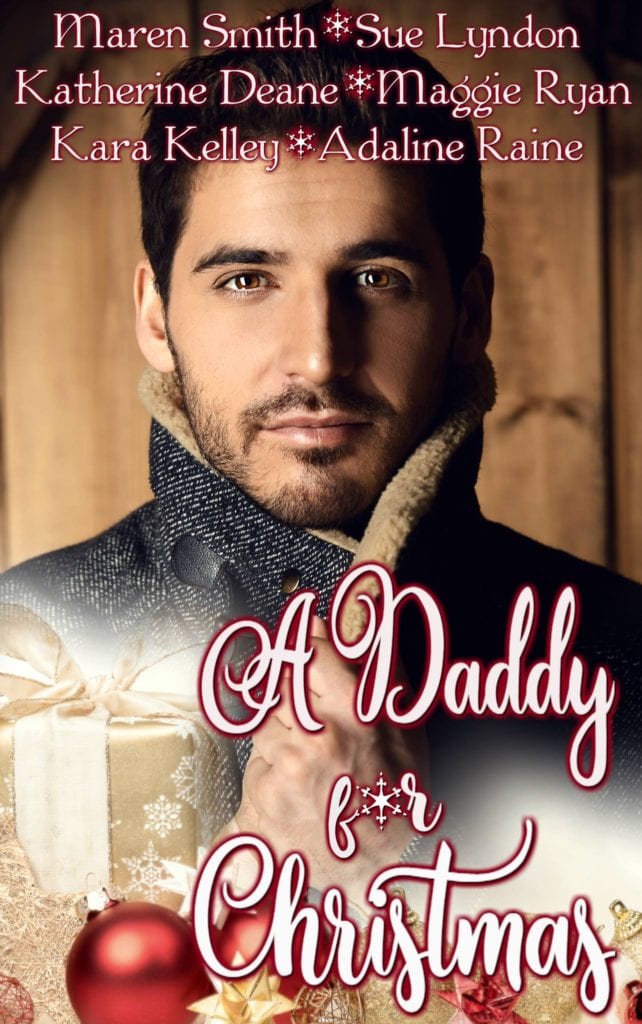 A Daddy for Christmas
A Daddy for Christmas is a sexy collection of ALL-NEW age play romances, brought to you by six USA Today and international bestselling authors. Daddy always knows best, and the young ladies in these smoking hot novellas are lucky to have the firm guidance of a father figure during the most magical time of the year. Grab some hot chocolate, snuggle up in your favorite reading spot, and let these dominant but loving daddies take charge.
Featuring….
Papa's Little Bride by Sue Lyndon
Build-A-Daddy by Maren Smith
Santa Daddy by Katherine Deane
Mountain Man Daddy's Christmas Surprise by Kara Kelley
The Daddy Contract by Adaline Raine
His Little Noelle by Maggie Ryan
Papa's Little Bride by Sue Lyndon:
When Kingston proposes marriage to Faith a few weeks before Christmas, he's upfront about his expectations in a bride. Not only is she to call him Papa, but she'll be under his complete authority and subject to his discipline. She soon thrives under his guidance and finds herself falling for her strict but loving Papa. But despite her newfound happiness, she can't help but worry something will go wrong. Is their arrangement too good to be true, or has she finally found her forever home?
Build-A-Daddy by Maren Smith:
For Aubrey, when an impromptu trip to Build-A-Bear leads to an unexpected rescue by the cowboy Daddy of her dreams, she thinks her deepest, most secret wish about to come true. Sometimes it's a brand new stuffy at Christmas time; sometimes, it's a whole lot more.
Santa Daddy by Katherine Deane:
Alex and Connor are undercover again, and it's all fun and games until the caroling starts. Can Alex make it through this Christmas season without her usual bah-humbugging? Or will her Daddy, Connor have to take matters into his own hands?
Mountain Man Daddy's Christmas Surprise By Kara Kelley:
Tis the season and Mountain Man Daddy has a lot to do to surprise his little wife, Avery, with his change of heart about Christmas, but Rocky, their pet bear, is acting strange and refuses to leave Avery's side. Mountain Man Daddy suspects it's one of his past arrests lurking, and he's more protective than ever. But when Avery finds out the real reason, she and her sneaky old neighbour, Annie, start planning a surprise of their own.
The Daddy Contract by Adaline Raine:
Kayleigh Cavett penned a desperate letter to Santa Claus hoping for her own holiday miracle. She begged for someone to take care of her and get her life back on track. The next morning she awakens to find a stranded Sebastian Cruz, her brother's best friend and life long crush. When the handsome lawyer offers to spoil her rotten until the snow melts, will she accept his terms?
His Little Noelle by Maggie Ryan:
Her very name means Christmas, yet she'd never experienced the magic of the season. Davis is determined to change that and give his little Noelle the greatest gift of all… a family.
* * *
Teaser from Papa's Little Bride by Sue Lyndon

My sweet, but naughty, little girl obediently lays over my lap. A thrill jolts through me to have her in this position, with her bottom jutted up high and her legs slightly parted to reveal the slickness glimmering at the slit of her smooth pink cunny. She soon gasps and tries to place her thighs together, and I respond by shifting her over one knee, forcing her legs to fall open. I clamp my free leg atop her fidgeting ones and cup her behind cheeks, each in turn, massaging and inspecting her luscious pale globes.
"You will remain spread like this during your punishment, young lady. There will be no hiding from Papa. Your cunny will remain on full display at all times while I'm reddening your bottom cheeks. I realize this might embarrass you, especially because I'll be able to see every little glimmer of moisture, and no doubt when you squirm, your secret inner folds, but you were a naughty little girl and this added embarrassment is part of your punishment. This is what happens to naughty little girls. They get turned over their papa's knee for a good, hard spanking." With that, I raise my hand and let the first strike fall. My palm descends on her right cheek with a resounding smack, and I waste no time in delivering the second blow to her left cheek.
"Oh! Ouch!" She wiggles, but I easily hold her in place.
"None of that," I scold, alternating smacks from one reddening cheek to the other, peppering her entire bottom with sharp swats. "You're getting this spanking whether you like it or not."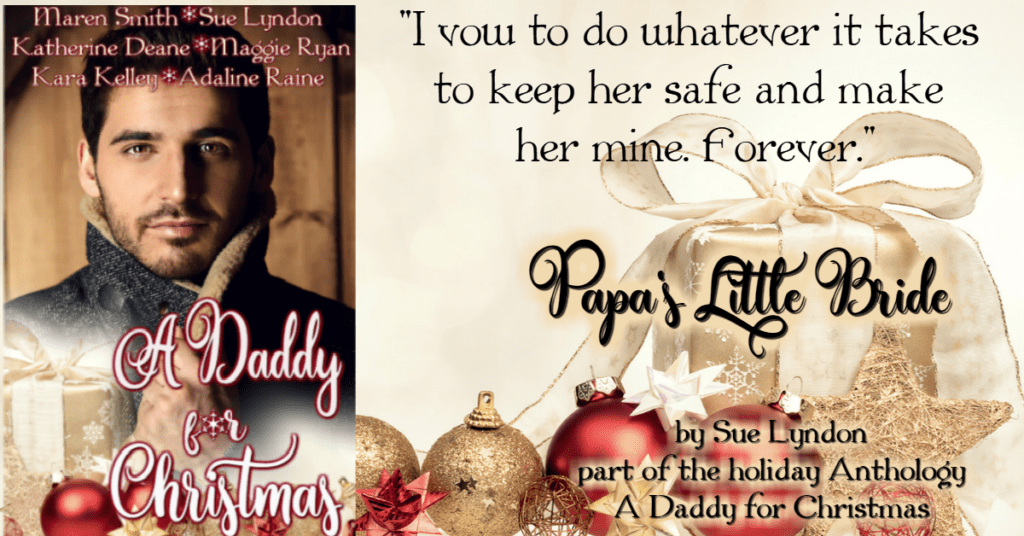 Teaser from Mountain Man Daddy's Christmas Surprise by Kara Kelley
"You weren't coming outside like that, were you?" He yanked off his toque with a growl, kicked off his boots and shucked out of his coat. Snow landed at his feet and began melting.
"I was hot," she said meekly. "But, no. I just realized what I was wearing and was going to change when you came through the door."
He hung his coat on the hook and took the mugs from her, holding both handles in one of his large hands so he could brush the snow from his hair and beard.
"Go ahead then, little girl." He gave her a half smile and her heart fluttered happily. "Not that I don't enjoy looking at your legs, but you're going to catch a cold."
Her brows rose at his words. "Every time you say that I tell you that you don't catch a cold from the weather, you catch a cold from a virus." She watched as he rubbed his big hand over his beard seemingly in consideration of her statement. Rocky seemed to grow bored by their conversation and walked to the woodstove, grunted and threw himself down in front of it.
"And every time you say that, I'm usually taking care of you, making you soup and handing you tissues the next week."
She rolled her eyes. "That's just a coincidence. I'm the one who goes to town and people give me germs."
"Did you just roll your eyes at me, young lady?" His voice was deep, low and threatening.
She shivered but grinned cheekily. "Umm, I sure did." She turned, spun on the balls of her feet, and ran into the bedroom, knowing he still held the two cups and would have to set them down before chasing her.
Just as he flew into the room, at a speed a man of his size shouldn't be capable of, Rocky bustled in behind him.
"Stay back, Mountain Man or my bear will attack," she said with a giggle, pointing at Rocky. "You hear him growling?"
"Black bears don't growl, little one." He stalked closer to the bed, and she scrambled off the other side. Rocky was silently but intently watching.
"Hmm, learn something new every day," she replied and shifted to match his movement, keeping them an equal distance apart.
"I plan on teaching you something else."
His smirk was hidden, but she knew by the sparkle in his eyes that he was being playful. Oh, she'd end up over his knee, but it would be for fun and it would end in the most delicious way.
As he lunged across the bed at her, Rocky made a deep pulsing throaty noise that made Mike freeze.
"I thought you said they don't growl?" Avery's stomach quivered.
"That wasn't a growl, Avery, but it was a threat."
Avery looked at the bear, large and intimidating, filling the doorway with his mass. He hadn't moved his eyes from Mike for even a second. Mike rolled and sat up on the bed.
"Do you think a huge storm is coming and Rocky's trying to warn us?" she asked.
"No, he's protecting you. I'm just not sure why." Mike scratched his beard, eying the bear warily.
"He's never done this before. He sees us play all the time. Hell, he's seen you punishing me."
"Right." He narrowed his eyes and shot her a quick warning glance. "Don't go anywhere alone."
His deep voice reverberated through her. "What?" Her brow furrowed. "But this is why you taught me how to use the gun, and made me pore over books on wildlife, and got me the car. So I didn't need a chaperone all the time."
"Avery, I won't argue over this. Something's changed and until I know what it is, you're on lockdown. You don't leave this cabin without me."
He looked at her, the playful sternness replaced by the real kind that made her belly sink like a rock and her nether cheeks tingle in dread.
"Understood?"
"Yes." She nodded and he rose from the bed. If she couldn't tell how concerned he was by his pallor and tight expression, she could tell by the way he hadn't made her repeat her 'yes' and add 'daddy'. Mike was worried. Avery chewed her lip. And that made her worry, too.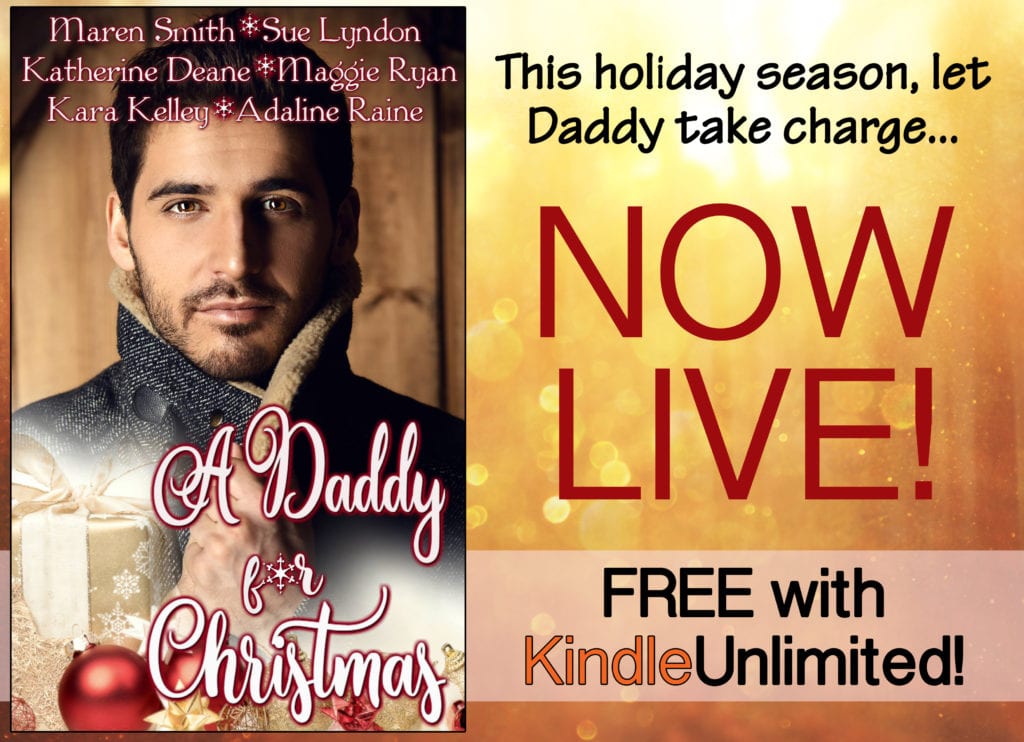 * * *
Did you like those teasers, lovelies?! Well, there is a lot more where that came from in this kinky little boxset, so make sure to run over to Amazon and grab a copy so you can curl up in a blanket with something tasty and serve yourself a little self-care. That's what Daddy would want, afterall.
AMAZON: 1-click now!
* * *
Want more from these fabulous authors?
USA TODAY bestselling author Sue Lyndon writes steamy D/s romance in a variety of genres, everything from contemporary to historical to fantasy. But no matter the genre, her heroes are always HOT dominant alpha males. She's a #1 Amazon bestseller in multiple categories, including BDSM Erotica and Sci-Fi Erotica. She also writes non-bdsm sci-fi romance under the name Sue Mercury. When she's not busy working on her next book, you'll find her hanging out with her family, watching sci-fi movies, reading, or sneaking chocolate.
Website | Facebook | Twitter | Instagram | Amazon Author Page | Newsletter
USA TODAY bestselling author Maren Smith. "For me, romance and kink have always gone hand in hand. I love strong, authoritative men—men who are both ready, willing and able to leave the lady of their choosing red–bottomed and weeping for her own good. Writing has given me the wonderful freedom to explore my kinky side without feeling 'weird'. Even better, with the invention of the Internet, I can write what I love and know it will be appreciated by people with the same interests. Although I've been writing spanking romances for more than twenty years, it's only been in the last five that I've truly broken out of my self-imposed shell to explore the other aspects of my submissive nature. Fortunate enough to live with my Dominant, I am an author, a Little and a submissive for the love of my life. Between that and my membership at my local Dungeons, there are very few things that I write about that I haven't tried at least once."
USA Today bestselling author Katherine Deane is a multi-published, top 100 romantic and BDSM author and romantic at heart. She loves cheese, red wine, chocolate, and snuggling up with her daughters' kittens while reading a good book. When not reading, or writing, you can find her knitting, sewing, crafting, or doing pretty much anything to keep her hands busy. She has taken over the dining room AKA craft room, much to her husband's dismay. In one of her books, an energetic "craftaholic" would find herself over her husband's knee for losing an important document in a pile of bi-cone crystals and mod podge. Her real life, and the people in them, give her plenty of ideas to work with. Katherine has dubbed herself the queen of cheese. Not only is she a former Midwestern Cheese Head; she also loves to incorporate it into her books. In her opinion, all romance deserves at least one cheesy scene that makes you cry.
Kara Kelley is a naughty Canuck (that's a Canadian for those of you that don't know), who loves spanks, a little bondage, tantalizing creative sex (trust me, honey this sh*t is gonna rock our world) and TIM HORTON'S. She's full of playful mischief, loyalty and maybe some stubbornness, but she'll never admit it. And she believes living in a secluded cabin in the woods (including good WIFI, a stocked Kindle, and plenty of chocolate) with her husband would be absolute bliss.
Adaline Raine is an international bestselling author. She is an avid reader of all romance but loves contemporary and paranormal the most. What's sexier than an alpha werewolf, dominant shifter, or bad-boy vampire? Adaline adores creating graphics for others. She has designed custom banners and buttons for various blog hops throughout the community as well as promos and teasers for her fellow authors.
Maggie Ryan is a USA Today and #1 International Best Selling and Multi-Award Winning Author in Victorian/ Historical, Contemporary and Western Erotic Romance. Fiction is a world that offers endless possibilities. I love to write stories that take a reader on a journey, one they can disappear into and experience what might have been or what is to come. My books are always sweet, extra spicy, and a little taboo! I hope you will curl up in your favorite chair and take the journey with me. Happy Reading!