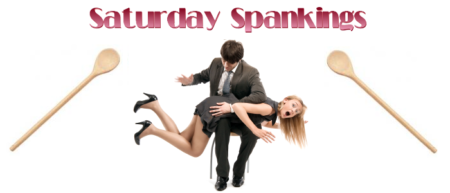 Well, hello, lovelies! It's time for another Saturday Spankings blog hop! We're back on the dance floor with my current menage erotica work in progress 'Reunited'. Megan and her ex-high school boyfriend, Eric, are at her 10 year high school reunion. (if you want to catch up from #WIP Wednesday, click here) They've been watching their friend Colby dancing like an extra from Magic Mike, showing off his delicious abs, but then Megan brings out Eric's dominant side when he cracks a joke about the fake jobs they had told each other earlier in the story.
—
"He's got no shame," Eric laughed and spoke directly into her ear. His breath against her cheek sent a shiver over her skin.
"Did Colby ever have shame? I think he was born without that functional part of the brain."
"Well, I was a brain surgeon for a while… I could check." He was grinning when she leaned back from him and slapped his shoulder. In a flash his hand was around her wrist and he'd flipped her around so she was against his chest – but now he had her arm pulled slightly up behind her back. Somehow he managed to keep dancing, his other hand keeping her hips in beat with him as he restrained her with ease. A memory of him pinning her to the narrow bed she'd had in her parents' house emerged and a frisson of heat pulsed down her spine to nestle itself between her thighs. "Now, that wasn't very nice, Megan."
Her mouth went dry as his voice purred out her full name and she was ninety-percent sure that the hard press against her back wasn't something in his pocket. She felt seventeen again, excited and unsure about what to do next. She tried to swallow to regain her voice, but all she managed was a breathy, "Eric?"
"Do you want me to let go?"
—
Purrrr, I know I don't want him to let go! He's hot! This scene isn't quite done yet because I have a feeling Colby is just about to cut in. Come back on Wednesday for the continuation of this scene! In the mean time, check out all of the other lovely authors on the #SatSpanks blog hop below!