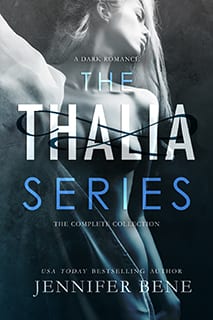 $9.99 / $24.99
Available in:

Kindle, Kindle Unlimited, Paperback

ISBN:

978-1-946722-27-0

Published:

March 18, 2018
Amazon
Taken. Trained. Sold.
Kidnapped late one night, Thalia is thrust into the violent, controlling world of a man who forever alters the course of her life. Brutally trained to be the perfect submissive, Thalia's world crumbles around her as everything narrows down to the man, his expectations, and her unpredictable future.
What follows is an intense, psychological journey that takes readers through the turmoil Thalia faces as she tries to come to terms with her newfound submission, and the difficult decision of whether or not she can find her place in this new world.
The Thalia Series is a dark, gripping, and emotionally harrowing story that takes you on a roller coaster ride from the deepest of dark romances all the way to the light.
Featuring all four books: Security Binds Her, Striking a Balance, Salvaged by Love, and Tying the Knot.
This boxset also includes all four short stories in The Thalia Series! Christmas at Purgatory, The Branding, A Kalen and James Flashback, and a brand new, exclusive story from James' perspective titled 'James at the Auction'.
Over 290,000 words of dark romance from USA Today bestselling author Jennifer Bene gathered together for the first time in one collection!
Related