Where has the time gone? Just when I thought I had things under control, life spirals and things get away from me. Hopefully we can get to a normal schedule again soon! I am super excited to you the bring the final book in season two of Black Light, Black Light: Possession by LK Shaw introduces a new menage couple to the Black Light scene and there is some kinkery coming for sure.
* * *

Black Light: Possession
After relocating to Washington, D.C. to avoid an overzealous secret admirer, Dr. Madeline Parrish wants to learn all that the city has to offer. When a friend invites her to explore the dark pleasures at the exclusive BDSM club, Black Light, Madeline meets two enigmatic Doms, with whom she spends one explosive night.
Soon the 'love letters' from her admirer start arriving, but now their tone is clearly threatening. When it's discovered the letters are eerily similar to those written by the serial killer, 'Casanova,' FBI Agents Joseph Crocker and Nathaniel Morgan are brought in to investigate.
Much to their surprise, Madeline is the sexy submissive they shared an unforgettable night with.
Crocker and Morgan tempt and seduce Madeline into becoming theirs. Casanova, however, has other plans for her.
Can the men catch the killer before he makes Madeline his next victim?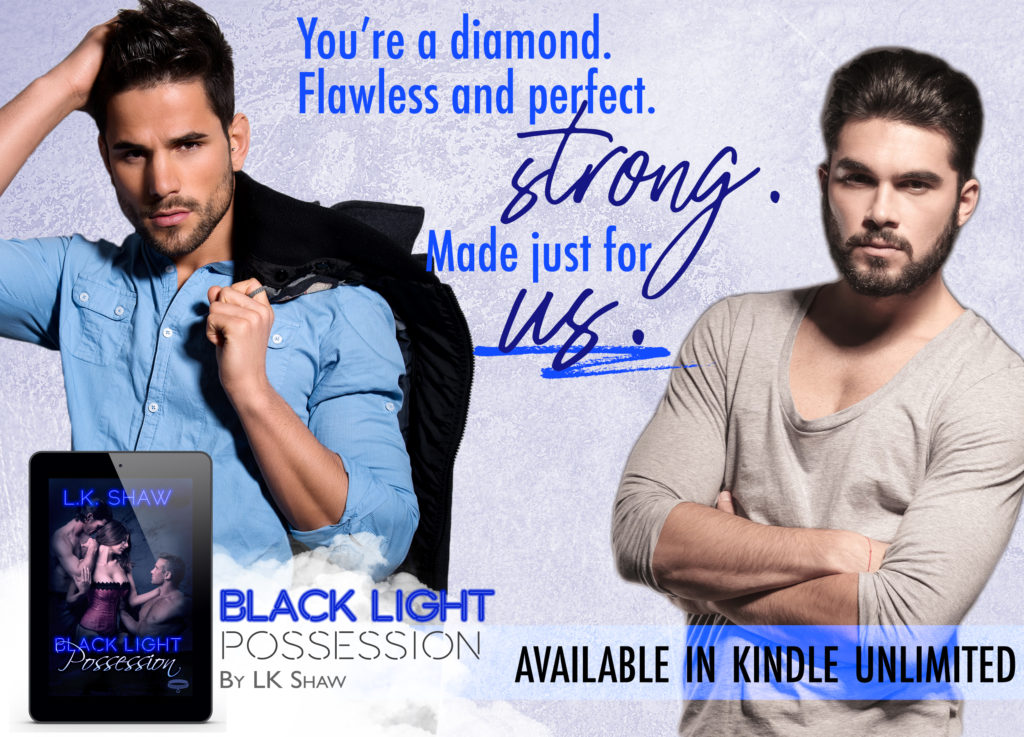 * * *
Excerpt
"How do you feel about knife play?"
There was a devious twinkle in his eyes at her answers. I knew Nat would push her limits with his love of the knife. For him though, it wasn't about the cutting per se, although he certainly enjoyed seeing his shallow marks on a sub's skin. He also didn't bleed anyone unless they enjoyed it. It was the mind-fuck, the fear, that turned him on.
She took a moment to ponder her answer. "Honestly, I don't know. I've never experienced it before. Is blood involved? Because that would definitely be a hard limit."
Nat replied since this was his area of expertise. "For me, it's not about the blood. It's the rush of the mindfuck. It's a heady feeling knowing that my sub trusts me enough to not damage her body. On occasion, I like to leave some scratches, a reminder, but they're shallow and I don't fully break the skin. Of course, there is definitely a tremendous amount of trust involved. Because sometimes, things happen. But I always take every safety precaution before engaging in any play, especially with someone inexperienced in it. If it's something you'd like to try sometime, I'm more than willing to oblige."
I was glad she took her time, weighing the idea instead of immediately shooting it down. The power of the knife really was an integral part of him. Nat would accept her limits though.
"Let's table that one for another time. For now, I'm going to go with hard limit with the option to change my mind."
"Understood. I hope to change your mind soon." He added with a cheeky grin.
"I hope you do too," Madeline replied just as cheekily.
"Well, now that we've learned your hard limits, we should also share ours. We draw the line at electrical play and age play. Neither are our special kind of kink."
"So you won't spank me and make me call you Daddy then, huh?" She smirked, a sparkle shining from her eyes behind her glasses.
Nat slowly rose from his seat causing Madeline to tilt her head way back to track his movements. She shifted nervously in her seat, swallowing hard, most likely realizing she awakened the beast inside him. He took one step forward, and threaded his fingers through her hair before fisting the strands and gently, but firmly, pulling her up and out of her chair. He leaned down and rasped his night stubble across her cheek and jaw before stage whispering in her ear. I could see her tremble from the hot breath blowing against her.
"There will most definitely be spanking involved, pet. My hand is already twitching with need to redden that ass of yours. You're spunky and full of fire and I like it. But I think it's time now for that punishment you earned. Along with a new one it looks like we'll be adding to it. Just so you don't forget it's Master, not Daddy. Now, be a good submissive and tell us your safe word." He nipped her ear, emphasizing the command behind his directive and she sagged against him, her arms clutching his biceps as though to hold herself up. Nat braced his hand around her hip to help keep her steady.
Her eyes were heavy-lidded with arousal and it took her a moment to get her bearings. Once she had, she wobbled a bit as though weak in the knee. I stood and moved behind her, effectively caging her between us. I traced a path with my finger down her arm causing her to shiver.
On a shaky breath, she exhaled her answer. "Dragonfly."
"Good girl. Now, are you ready to accept your punishment, Madeline?"
"Yes, Master."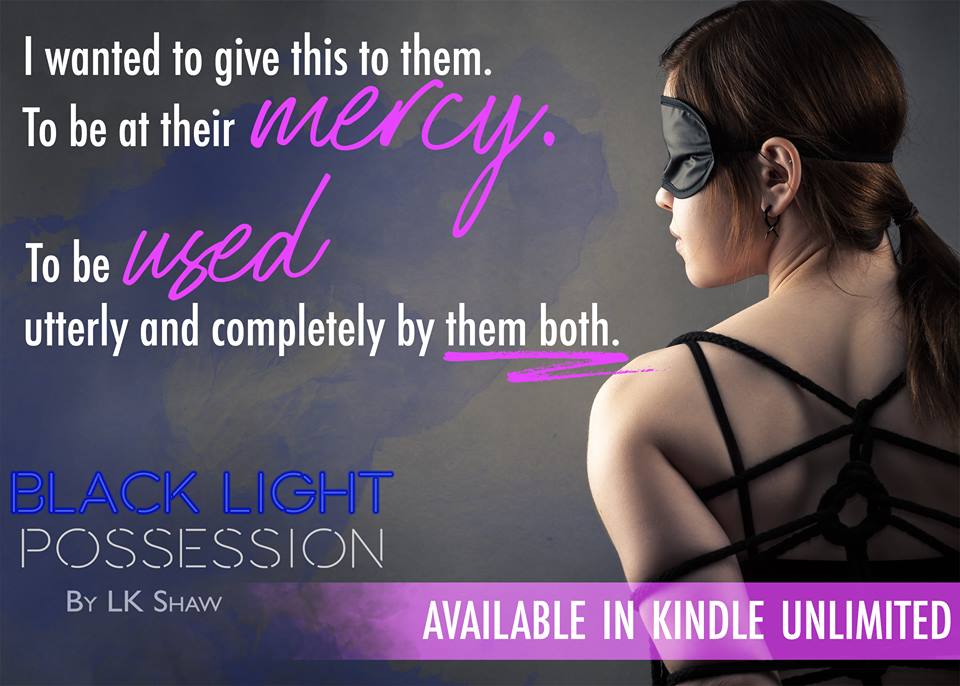 * * *
I am happy to say that while life keeps throwing me curves, I AM writing! My story in Black Light: Celebrity Roulette is almost done and I am helping edit some of the other stories that have come in for the anthology. Fingers crossed that I will be able have time to breathe at some point. Until then, grab Black Light: Possession because this hot story is just what you have been waiting for.
Amazon: 1-click now!
* * *
Want more of LK Shaw?

LK Shaw is a physical therapist assistant by day and author/social media addict by night. She resides in South Carolina with her high maintenance beagle mix dog, Miss P, who should probably just have her own Instagram account. An avid reader since childhood, she became hooked on historical romance novels in high school. She now reads, and loves, all romance sub-genres, with erotic romance and romantic suspense being her favorite. LK enjoys traveling and chocolate. Her books feature hot alpha heroes and the strong women they love.

LK loves to interact with readers. You can follow her on any of her social media. Don't forget to sign up for her monthly newsletter! http://eepurl.com/ds5MOb

Make sure to follow LK for more new releases coming soon!

AUTHOR LINKS
Follow her on social media:Author Page: www.facebook.com/LKShawAuthor
Author Profile: www.facebook.com/AuthorLKShaw
Twitter: www.twitter.com/LKShaw_Author
IG: @LKShaw_Author
Amazon: amazon.com/author/lkshaw
Bookbub: https://www.bookbub.com/authors/lk-shaw
Website: http://lkshawauthor.wixsite.com/lkshawauthor