The countdown for my trip to South Africa is on and I have so much left to do, but I am super excited to visit Dani René, go sight seeing, go on a safari tour, and so much more. Until then, take a peek at this amazing little snippet. Natasha Knight published a super dark book called Taken and followed it up with Torn. It is so dark, so good, and omg the ending!  Lucky for you, Torn is already out so you can find out how their story ends ASAP instead of waiting like I had to!
* * *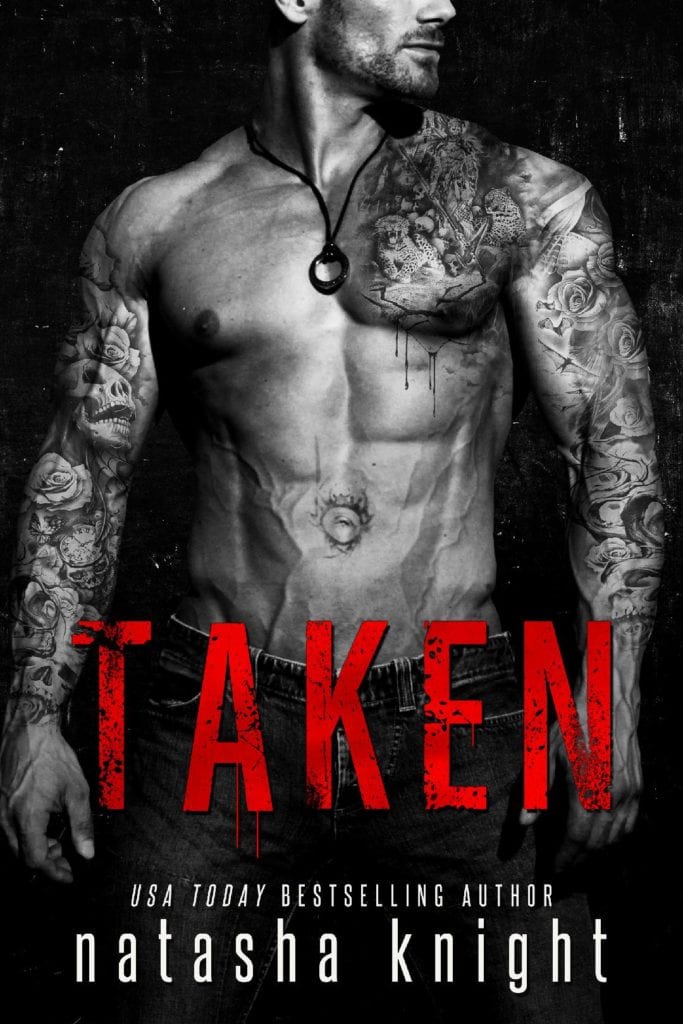 * * *
Taken 
I'm one of four Willow daughters. He's the first-born son of the Scafoni family. And we have history.
For generations, the Scafoni family have demanded a sacrifice of us. A virgin daughter to atone for sins so old, we don't even remember what they are anymore.
But when you have as much money as they do, you don't play by the rules. You make them.
And Sebastian Scafoni makes all the rules.
The moment I saw him, I knew he would choose me. Even though the mark on my sheath declared me unclean. Even though my beautiful sisters stood beside me, offered to him, he still chose me.
He made me his.
And then he set out to break me.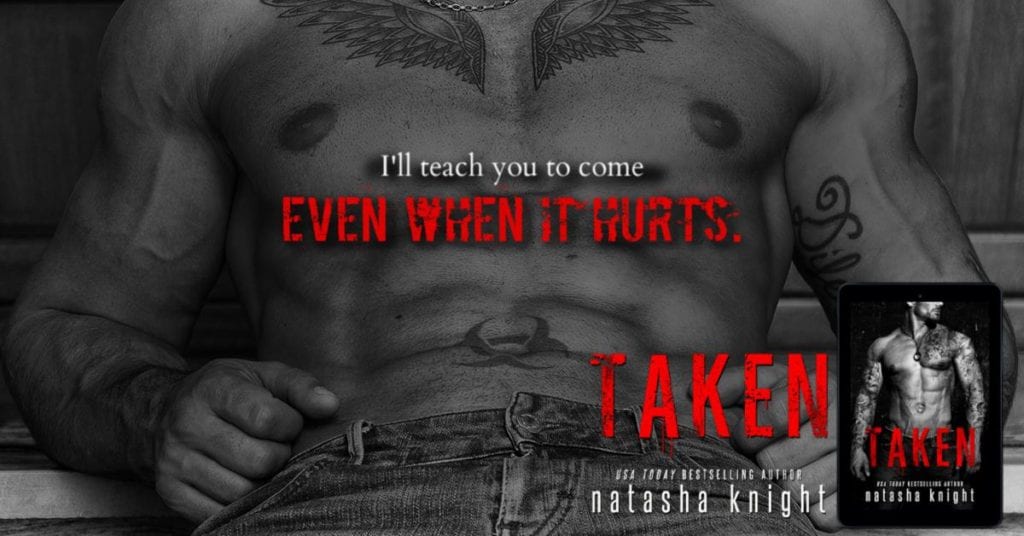 * * *
Excerpt
I step to the last Willow Girl.
She isn't a doll. Not like her sisters, at least. Beautiful, still, but this one, there's something about her, a darkness to her. Rebellion burning inside her.
Or maybe it's just arrogance.
It makes one corner of my mouth curve upward.
This one is no lamb. I see it in the icy midnight eyes that greet me, and I realize why she's bound and gagged. She'd lunge at me if she could, and the thought makes my dick hard.
She's different than the others. I decide to call them the dolls. This one, her dark hair is so black it's almost blue. It falls straight and heavy down her back, long enough to wind around my hand, thick enough to withstand my fist.
I step to her, and even standing on the block, she has to turn her head up to keep my gaze, but she does.
"Switch on the lights," I command.
I want to see the bounty.
Fuck tradition.
The room is drenched in bright light on my order.
My eyes lock on the girl.
She stands watching, defiant.
She's naked beneath the sheath. I look down at the dark pink points of her nipples, cold beneath my inspection, pressing against the centuries-old cloth.
I study her, keep her gaze as I gather the sheath in my hand and stretch it, holding the marked spot out.
Because what that streak of blood means is that she failed the examination. This one isn't a virgin.
I fist the cloth and bare her feet, her knees, thighs, pussy.
"Her name?"
"Helena, sir."
"Helena." I try it out. I think I'll keep it.
And I know she's the one I have to take. Perfectly imperfect. Opposite her sisters.
Flawed.
I nod, turn my back.
"Her," I say and walk out of the room.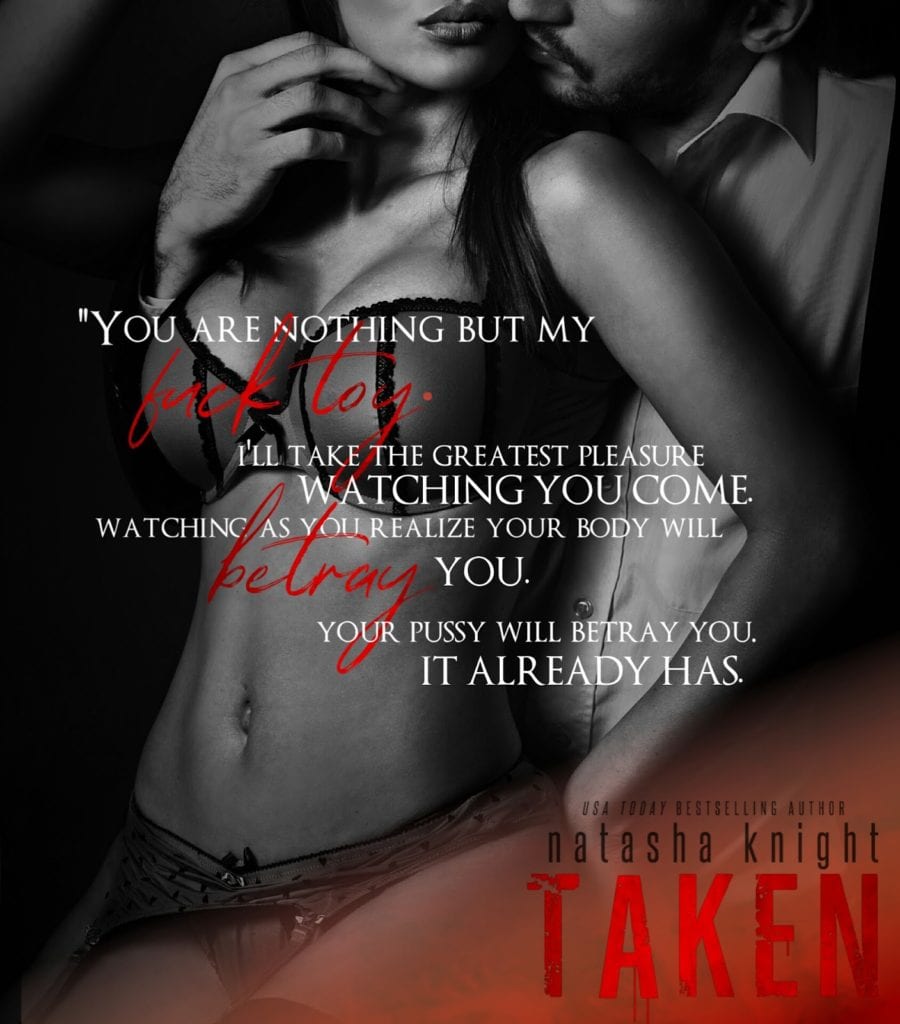 * * *
How amazing is that excerpt, I LOVE how she is flawed and that is the reason he wants her. This is such a mind fuck, an amazing story by Natasha.
Amazon: 1-click now!
* * *
Want more of Natasha Knight?
USA Today bestselling author of contemporary romance, Natasha Knight specializes in dark, tortured heroes. Happily-Ever-Afters are almost always guaranteed, but she likes to put her characters through hell to get them there. She's evil like that.
Facebook – https://www.facebook.com/natashaknightauthor/
Facebook Group – https://www.facebook.com/groups/1752075498339742/
Website – https://natasha-knight.com/
Amazon – https://www.amazon.com/Natasha-Knight/e/B009MIHIFG
Newsletter – https://landing.mailerlite.com/webforms/landing/x8i0m2
Instagram – https://www.instagram.com/natashaknight13/
Twitter – https://twitter.com/natashaknight13