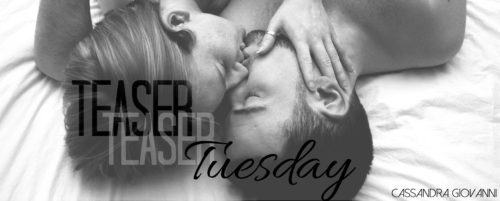 I hope the holidays were uneventful for everyone, lovelies! I've been in mental self-care mode so I can get ready for my trip and also survive the holiday chaos, so much so I almost forgot to get this up. I love Addison's dark and twisted mind so much, but it shows how strong of an author she is to write something so NOT dark and twisted!  Take peek at 'A Taste of Shine' and tell me if this isn't an amazingly gritty romance full of light!
* * *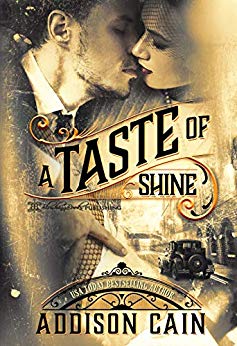 A Taste Of Shine
Chicago's reigning kingpin wants Charlotte back under his wing. His right-hand-man wants her in his bed. But small-town moonshiner, Matthew Emerson, just wants her right where she is—safe in his arms and hidden away from her sordid past.
Trouble is, Charlotte's not that kind of girl. The spitfire has her own reckoning to bring, and the last thing she wants is someone thinking she's worth protecting.

* * *
Excerpt
She seemed agitated, sipping a fresh glass of water, fluttering the front of her nightgown against her bosom. Matthew, eyes smoldering, thanked God he'd satiated his need before seeing her in such a state. Had he been as rock hard as before, he would have shoved her down right there on the floor and shown her just how fucking much he ached for her.
Moving towards the small pool of moonlight, he saw her startle and blush.
God, she was perfect.
"Matthew." As if painfully aware she was practically naked, Charlie began to scamper away. "I just came down to get something I needed."
He moved closer, cutting off her escape as he prowled closer. Voice rich with want, he asked, "Did you find what you needed?"
It was written all over her: the flushed cheeks, the swollen lips—the way her eyes darted over his body before settling on his mouth. He could practically smell her arousal.
Barely managing a frustrated whisper, she admitted, "I don't… rightly know."
Trapped with the bar at her back and the red-blooded man corralling her in, Charlie visibly swallowed. Big, callused hands came to her waist and lifted her to perch at the edge of the counter. Nose went to her throat, Matthew's mouth skimming up the ivory column until stopping at her ear.
A rumble of noise, a deep sultry purr, promised, "I know what you need, Charlotte."
Distracted by the way his mouth moved against her flesh, his golden girl failed to notice the palm skimming up her thigh, or that her legs had parted indecently around his torso. Aware she might bolt, he placed his arm around her, before eager fingertips slipped beneath the pretty blue silk.
A confused, hungry cry, and Charlie wilted.
He hushed her once, felt her trembling something awful, and moved to stroke her sweet little pussy. One swipe, and Matthew found her drenched, swollen, and ready for him. Groaning approval, all it took was one simple pass over her pert clit before she moaned, wide-eyed and breathless.
Steady gaze boring straight into hers, Matthew watching as he touched—reading how she needed to be stroked by her little pants and mewls.
Slipping one finger into her saturated heat, he began to twist his fist around. His golden girl just about lost it, rolling her head back and bracing her body against the counter. He pumped against spongy flesh at the roof of her passage, his thumb running tight circles over her little pearl, growling in appreciation at the feel of her.
It began.
Charlie clutched the side of the bar until her knuckles shone white, squirming to escape those wonderful fingers, yet ultimately working her hips to invite him deeper. A tangled, confused feeling built up, tensing, her insides clenching like an overwound coil.
Through it all, Matthew held her steady, mercilessly fostering what made her breath hitch and mouth gape. Lips went back to her neck, biting and kissing, he upped the tempo and felt her hips roll wildly against his hand. When his mouth closed over the silk covered tip of her breast, her whole body lurched. She bucked, crying out.
The female flesh around his fingers squeezing tight.
Matthew didn't ease up a bit. Continuing to twist his hand at her pussy, to pluck her nipple with his teeth, he gave her all she needed and more.
Not until her body was limp, his golden girl whimpering for reprieve, sagging beautifully against his body, did he consider stopping.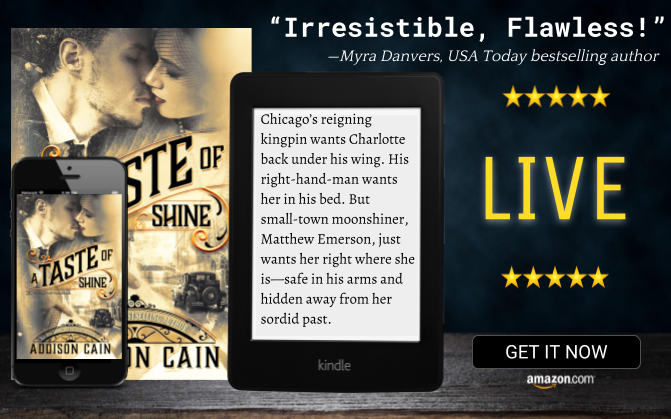 * * *
I am so close to my trip to South Africa, I am simultaneously overwhelmed with my to-do list and SO excited to leave for such an amazing vacation. Unfortunately Inheritance wasn't finished by November, I'm sorry lovelies. The good news it that I hope to have it ready by January now (no December releases!), so fingers crossed they finish talking to me so I can wrap the last of this book up!
Amazon: 1-click now!
* * *
Want more of Addison Cain?
USA Today Bestselling author, Addison Cain, is best known for her dark romances, the internationally bestselling Alpha's Control Series, and the twisted alien worlds of the Irdesi Empire. Her antiheroes are not always redeemable, her lead females fierce, and nothing is ever as it seems.
Deep and sometimes heart wrenching, Addison is driven to push her plots beyond the pale. Her books are not for the faint of heart, but they are just right for those who enjoy unapologetic bad boys, aggressive alphas, and a hint of violence in a kiss..