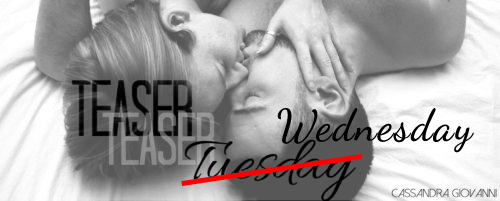 Well, I didn't have this intense snippet in time to post it on Teaser Tuesday, but that's why I have backup graphics for when Teaser Tuesday needs to slide around… or be extended. In this case, once I read the sneak peek of 'Rain' by CE Johnson I knew I couldn't wait until next week to share it! IT'S SO GOOD! Check out this hot cover and the heart-pounding sneak peeks below before you 1-click! You won't regret it!
* * *
Rain by CE Johnson
Charlie had it all.
Beauty. Brains. And the guy.
Until the perfect boyfriend went from heaven to hell.
Fearful for her life, and the sting of his hand still lingering on her cheek, she runs.
But she knows he won't let her go so easily.
Determined to leave his crime-ridden life behind, Rain retreated deep into the Oregon woods.
He has everything he needs.
A beautiful home and a life of solitude.
But when an injured woman staggers onto his property, he can't help but think she's part of an elaborate setup.
His gut says believe her.
His paranoia says trust no one.
His heart, however, is completely screwed.
Will enemies from both of their pasts ruin their chance at a future, or will love find a way?
* * *
Teaser
The crunching of the forest floor beneath my feet makes me cringe, but there's no time to slow down. I'm desperate to get as far away from this car as possible, so I run. Whether it is Austen or someone who would call the police, neither will turn out good for me. Austen has connections in and around Portland. If he's woken up and knows I'm gone, he'll have every one of his friends—whether they work for the law or against it—looking for me. They aren't looking to make sure I'm okay either. I'll never forget the smirk on the police officer's face when he brought me back to Austen the last time I left. For a brief moment, I thought I saw empathy in the cop's eyes, but that disappeared when Austen handed him a wad of cash. Neither his morals nor the uniform he put on every day were enough to stop him from handing me over to the devil. I'm shaken from the memory as I almost lose my footing to a stick on the ground.
Running isn't my forte. Hell, I hate briskly walking. I severely lack the endurance it takes to run a long distance on a flat surface, much less through the thick, uneven forest. The trees are unforgiving, and I have to dodge left and right every few feet to avoid running into anything. Lightheadedness taunts me, making the trees tilt, but I keep going. After running quite the distance from the car, I finally stop to catch my breath and shake the weakness away. Dread enters into my bloodstream as the sound of feet on the ground assaults my ears. Standing still, I try to pinpoint which direction they are coming from. Suddenly, they stop and there's nothing but the sound of the forest at night.
Could it be my own echo? Am I imagining things?
Cautiously, I keep trekking on. It's a struggle to see anything in the dark. Even the moonlight would have helped light my way, but of course, the clouds conceal it tonight. My very small flashlight only lights directly in front of my feet, so at least I can watch where I step, but I'm trying to use it sparingly. Although the forest has become quiet again, I can't shake the feeling of eyes on me, watching my every move. It's probably just animals. Even the thought of bears doesn't frighten me as much as what could be coming for me. They could eat me alive and still I would prefer that death to Austen. The feeling grows stronger and my body freezes, trying desperately to see if my paranoia proves true. Then, it becomes frightfully obvious as steps become louder. Tears fill my eyes as they frantically spin, only seeing shadows of tall trees all around. The sight alone is dizzying, but I have to get away. I shut off my flashlight and, blindly, I run. The footsteps in the dead plant material on the forest floor come closer no matter which way I turn. Frenzied, I dodge between the trees as everything around me becomes a blur. A large trunk appears right in front of me and I bolt my way around it. The air pushes from my lungs. Terror takes over as I run right into a large, hard body. A bright light flashes into my face, and all I see is the barrel of a gun aimed right between my eyes.

* * *
I know, I KNOW, it's already so good, but because I can't resist, here's another quick teaser! I CAN'T WAIT TO READ THIS!
* * *
Teaser 2
"What's your name?" she asks.
"Rain."
Curiosity fills her eyes, but she doesn't ask anything else.
"Thank you," she whispers as she puts her wrapped arm back at her side.
Sitting back in the chair, I nod and feel the pull from a muscle on one side of my cheek. Her eyes dip to my mouth, taking in the half smile that I didn't mean to do. It disappears quickly as a loud knock on the door sends her flying out of the seat. I rise forcefully but steady until she collides with me. Ignoring the small woman against me, I grab my gun from the counter. Instead of leaping for the door for someone to rescue her from me, she latches onto my arm. Her grip is so tight that it could draw blood, and all I can think about is how amazing her touch feels against my skin. It takes me a minute to regain the fact that someone is at my fucking door. I look down to her long fingers begging for protection. For saving. It's possible she's a really good actress. But what if she isn't and there is something truly evil torturing her? I don't know what is wrong with her. But for the first time in years—and with no idea how I got to this point already—I give a fuck enough to find out.
* * *
Are you as intrigued as I am? I seriously am already in love with Rain and this is all I've read about him. But you know how quickly I melt for a man with a dark side. #purr You've got to check this out, lovelies! It's even on Kindle Unlimited!
Amazon: 1-click now!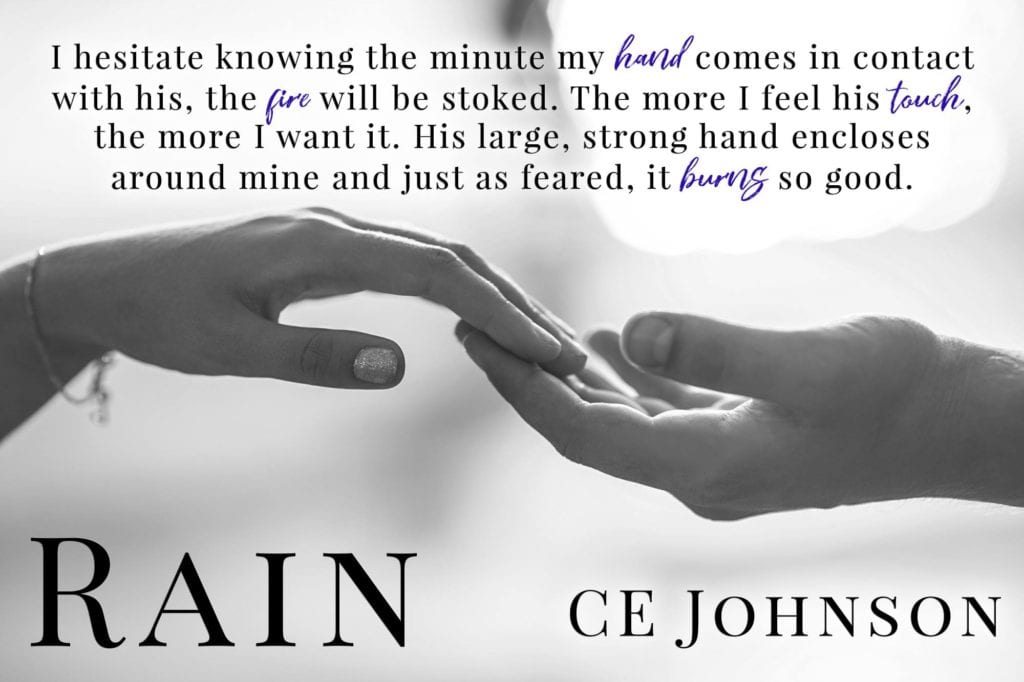 * * *
Want more of CE Johnson?
C.E. Johnson is an author of contemporary and suspense romance novels. Her first novel Done (In the Dark Series, #1), released in May 2017.
When not writing until all hours of the night (with lots of late night coffee runs), she loves to read books that feature a strong male with a soft spot for his feisty heroine. She prefers stories that rip your heart out completely, then kindly place it back into your chest with a HEA.
She lives in a suburb of Chicago with her husband, two kids, and some spoiled rotten animals.
You can connect with her on