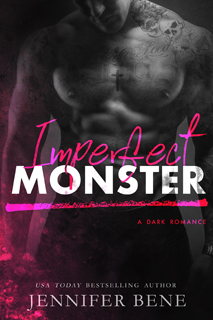 Hey there, lovelies!
I know you want to get back to reading as soon as possible, but I just wanted to tell you all thank you for supporting this release!! 'Imperfect Monster' is something I've wanted to finish ever since I wrote the original short in the Hero Undercover boxset in 2017, and I think Andre and Nicky's story turned out even better than I hoped!
I hope you all feel the same way! <3 Just be sure to snag your copy for the release week price of $2.99 before the price goes up next week!
Cold, ruthless, vicious.
I'm Paulo García's monster, and I'd swallowed that bitter pill whole, learned to deal with it… until she stormed into the house like some avenging Valkyrie.
Brave, stupid, beautiful.
Nicky just wants to save her brother. She showed up with an envelope full of cash and a smart mouth and found herself in a den of monsters. I wish I could say I was the best of them, I wish I could say I wanted to protect her — but I'm far from perfect and she's so damn sweet.
And all I want is a taste before this world destroys her.
********************************************************************
Who won the Imperfect Monster pre-order contest?
If you missed it, I had a very exciting contest for the pre-order of Imperfect Monster and I am so glad that so many people took the opportunity to submit entries and support this dark romance release! Alas, only one person could win the signed paperbacks of 'Destruction' and 'Imperfect Monster', along with a Kindle Fire!!
And the winner is….

Misty Paige

!!!
I've already contacted her and she is so overjoyed and a huge fan of my books (which is always so exciting!) and she's replacing a 9 year old Kindle with this brand new Kindle Fire! YAYY!!!
********************************************************************
Busy busy busy, that's what we all are! But I do hope you all enjoy Imperfect Monster, and please leave a review! I can't wait to hear what you think about it! <3