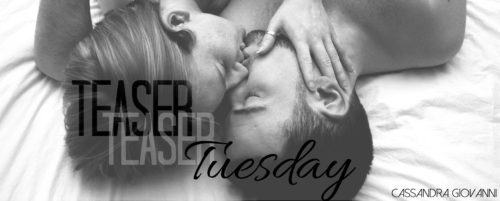 It's #TeaserTuesday, lovelies, but it's also RELEASE DAY for 'Destruction' which I know you have all been waiting for! And I am fucking THRILLED to bring you this amazing book which came out of a short story I wrote a while back, but it has 40k+ new words and the entire core of the book has been changed, along with the characters and… lots of other fun and dirty and naughty stuff and I'm absolutely thrilled with how it came out! I can't wait to write the 2nd book, because the teaser chapter at the end of this release has my gears turning in the BEST WAYS! You're going to love it, I just know it. BUT! To tempt you with 'Destruction' I'm sharing the teaser below which I only previously shared in my Dark Haven. Enjoy, and then 1-click!
* * *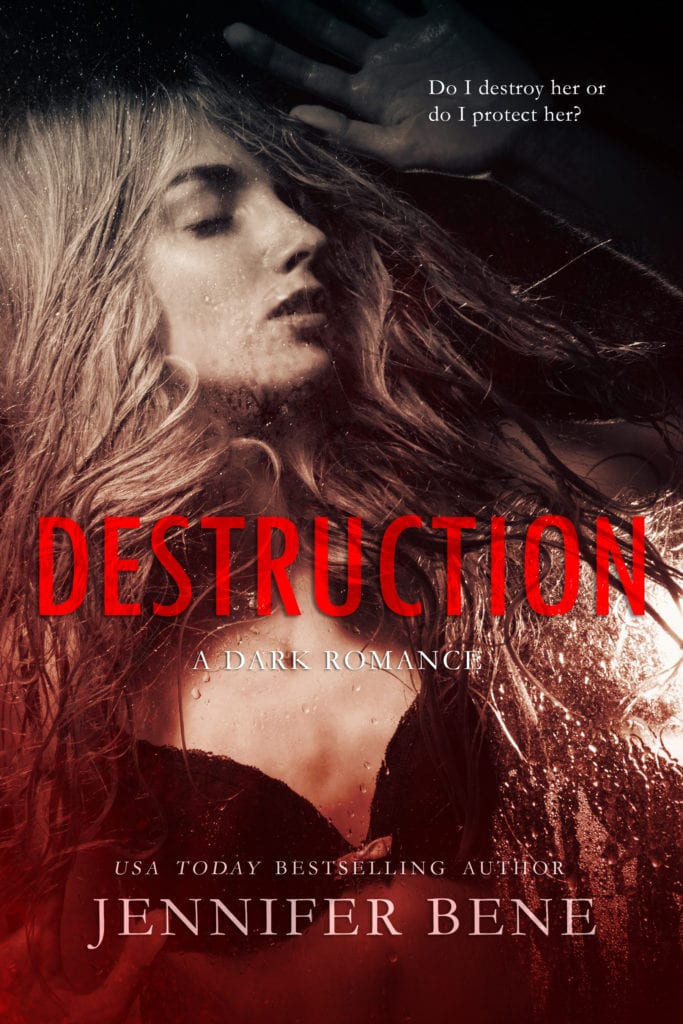 Destruction
Vengeance and destruction are all he has left.
Lianna Mercier has everything. She's beautiful, well-educated, her father is rich, powerful — and she works for him. The perfect little princess, raised to be just like daddy.
But it's all a lie.
A bloody, fucked up lie, and David Gethen is about to tear it all down and destroy Lianna in the process. He wants revenge, he wants to finish the plan his father started years ago — but after he takes her, after he tortures her, he begins to realize just how wrong he may have been.
* * *
Teaser
"Open up." He held the gag in front of her face, offering her the easy way, but she clenched her teeth tight just like he'd expected. Somehow the girl was simultaneously terrified of him, and still defiant. Where was her sense of self-preservation? Why wasn't she submitting to him fully in an attempt to make him lenient?
Not like it would work.
Wrapping his hand under her chin, he dug his fingers into the muscles of her jaw, slowly forcing her mouth wide as she whimpered. As soon as there was enough space, he forced the ball gag between her teeth, and then pressed his hand down to keep it there. "Tsk, tsk. I wasn't asking, princess, and when you disobey you just make me angry."
A sharp, incomprehensible shout escaped her lips, so he locked the gag a notch too tight, leaving her groaning as her jaw strained.
"You should hope he loves you as much as you think he does." Reaching for the bag, David dragged it toward him and slowly collected a handful of the vicious little clips. Lifting one in front of her face he pressed it open and let it snap closed.
Her voice climbed in volume as she whimpered, pleaded, and he couldn't help but smile as he pinched her nipple lightly between thumb and forefinger.
"All right, princess, time to scream." Cupping her breast he positioned the teeth of the clamp around her nipple and then let go. She bowed up on the mattress, her body arching prettily as she cried out in pain.
This was what he needed to calm the storm inside.
Pinching another bit of breast he attached another clip, and then another, picking up a rhythm as he moved to her ribs. Her pleas were stuttered with the earliest sobs of pain, but he just soaked it all in. There was something about the way she writhed, trying so hard to avoid the next bite of the clips even though there was nowhere to go.
Again, and again, and again.
The subtle snick of the little black clamp finding her skin, the yelp of pain, followed by another round of sob-filled babbling. Even through the gag her voice was soprano sweet, undulating in agony, and his cock twitched behind his zipper in response.
Moving down to her waist he placed another and then he looked between her thighs, stroking up the inside of her leg, and she tried to jerk them together, making the chains rattle. A stream of muffled curses came around the gag, nowhere near distorted enough for him to misunderstand. The rage flickered in his chest and then returned with force.
Reaching into the bag he grabbed the last few clips he'd need for this part and then he applied them one at a time to one side of her cunt. Decorating the tender flesh of her labia with tiny clips that had her crying softly up above, back arching.
It only took a few minutes to weave the string through the little clamps. Starting at her breast, down her ribs, her waist, and then her cunt. Maybe twelve in all, and he knew they hurt, but this would be the best part.
"You know what they call this, princess?" He stood up, trailing the string in his hand as he stood over her, one foot braced between her legs on the thin mattress.
She shook her head slowly, but he could see her working it out, following the string that looped around each clip, all the way down her body, and then up into his hand.
"It's called a zipper. I'm going to count to five, and if Daddy hasn't called by the time I get to five, I'm going to take the clips off the hard way." He almost didn't finish speaking before she was sobbing, jerking at the bindings. "Ready?"
The girl screamed, begging through the gag, sucking in air as she whined, and he couldn't deny how painfully hard his cock felt in the confines of his pants. Still, deadlines were deadlines.
"One… two…" David was counting slowly on purpose, partially to give the asshole time to call, but mostly because the girl looked divine writhing on the floor.
"Three. Four."
Glancing up at the camera he'd set as the default for this little event, he waited and then sighed. "Five."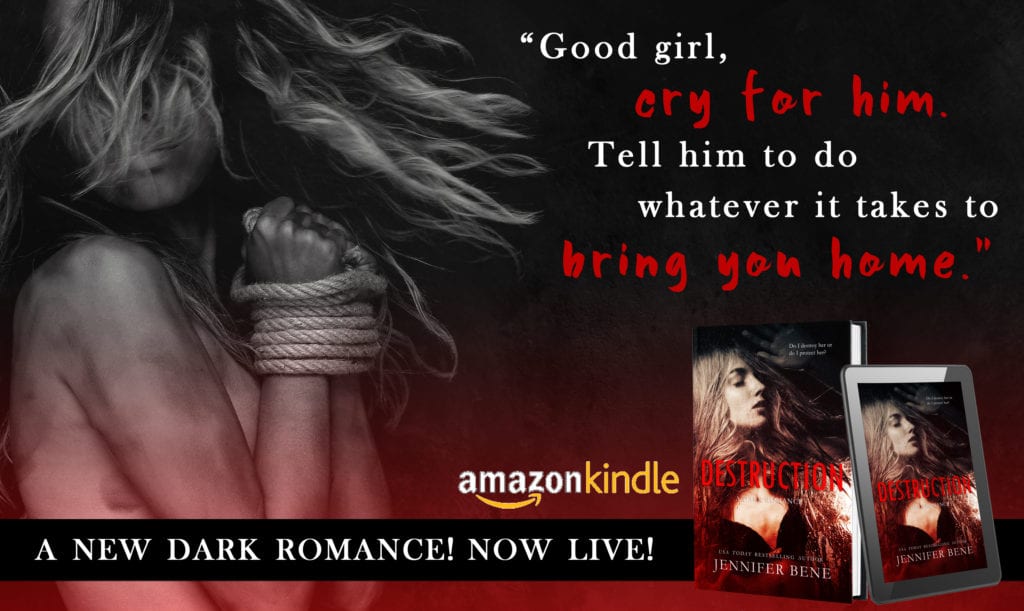 * * *
Anyone else as excited as I am? *coughs* Hopefully, you are because you're here, which means you like my particular brand of dark and twisted romance. And this IS a romance, I promise there's a lovely HEA. Want to read it and get the exclusive sneak peek (which is NOWHERE ELSE) for Book 2, titled 'Inheritance'? Well, then you're going to want to snag it while it's on sale for $2.99! Just for release week, lovelies, and then it goes up to $4.99 like the rest of my full-length books.
Amazon: 1-click now!
* * *
Are you stalking me yet?
Jennifer Bene is a USA Today bestselling author of erotic romance. She's been in the Amazon Top 50, and had #1 top-selling books in BDSM, Suspense, Thrillers, Action & Adventure, Fantasy, Science Fiction, and Horror. While she's been writing for years, it's always been the dark stuff that makes her tingly, so her books are full of aggressive alpha males, feisty women who may or may not have a submissive streak, and intense, psychological story lines. Don't worry though, she always insists on having a nice little happily-ever-after, because without the dark we'd never appreciate the light.
Want to get a FREE book, news about upcoming releases, giveaways, appearances, and more? Sign up for her mailing list!