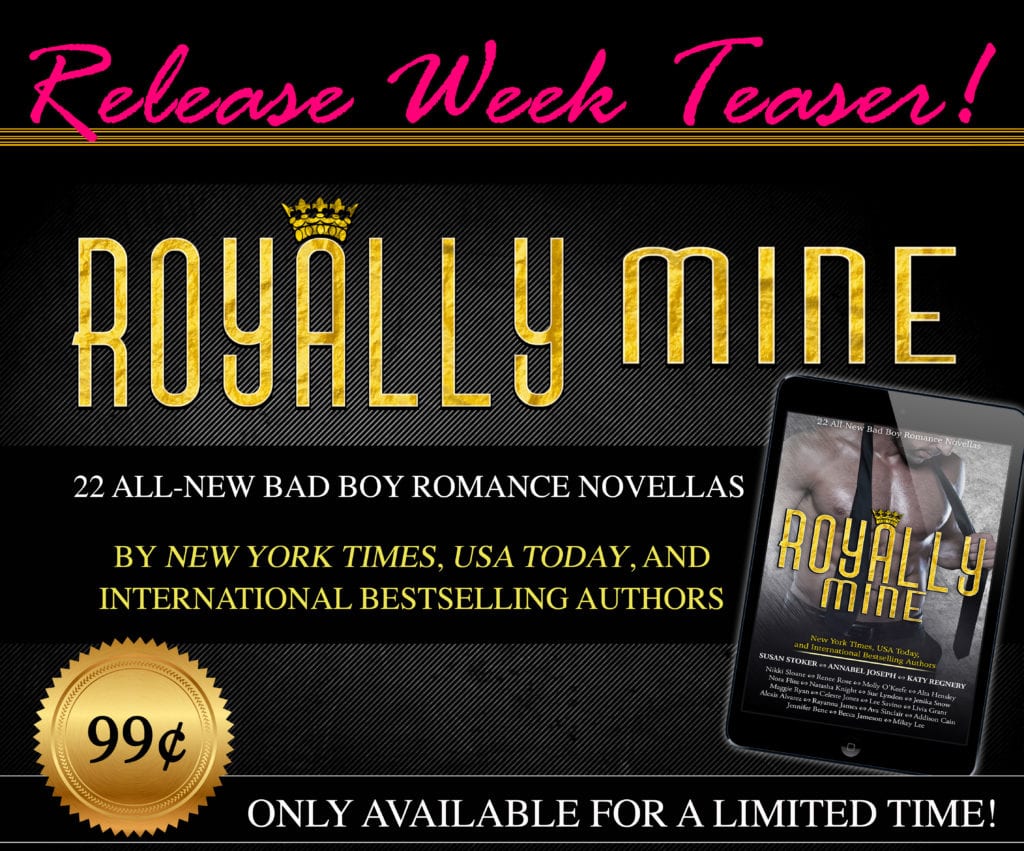 IT'S RELEASE DAY! OMG! IT'S FINALLY HERE!
That's right, lovelies! It's release day for Royally Mine and that means if you pre-ordered this sexy boxset, it's already waiting for you to devour all 22 sexy, royal bad boys! Good news if you haven't snagged a copy yet, you can still get Royally Mine for just 99c through the end of the week (when our chance to hit USA Today is over)!
Today, I have the incredibly hot 'Royally Fucked' by Lee Savino, and if you haven't witnessed the boiling snippets she's posted on her FB page, then prepare to have your panties burned off by Prince Theo!
***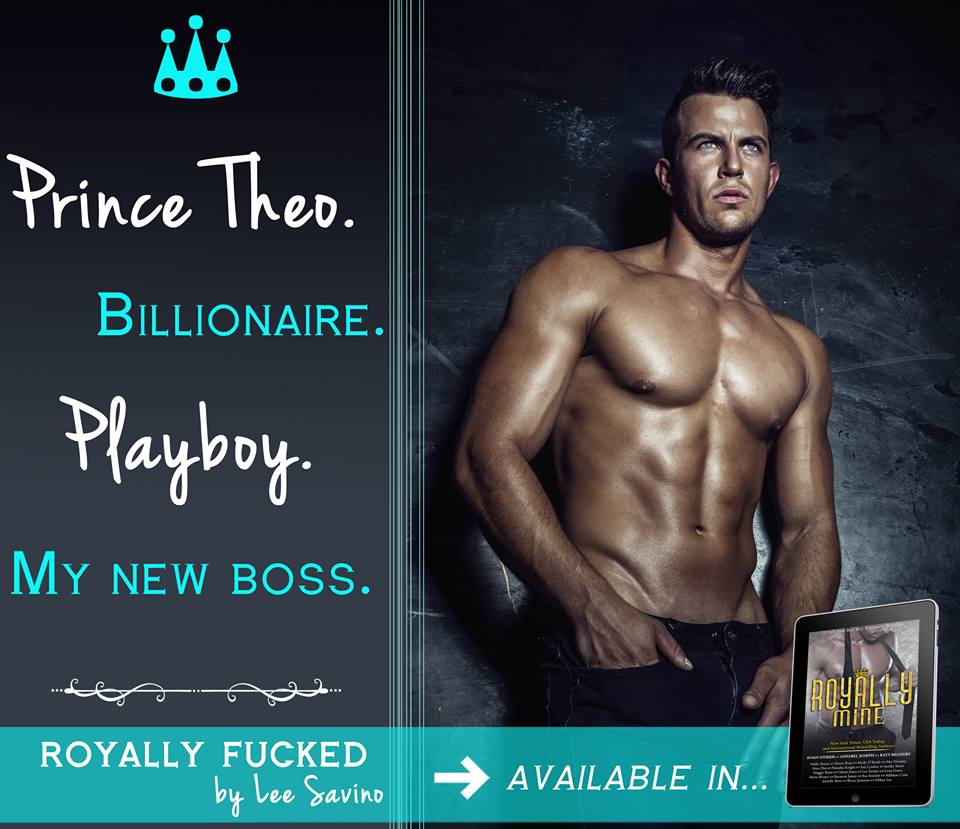 Royally Fucked (Royally Mine boxset)
Prince Theo. Billionaire. Playboy. My new boss.
There's an intensity about him, a hungry energy, some sort of powerful force field that would drag off my panties if they hadn't already melted.
No wonder all these celebrities go to bed with him. No wonder porn stars star in his private sex tapes.
No wonder the board of his father's company wants him gone.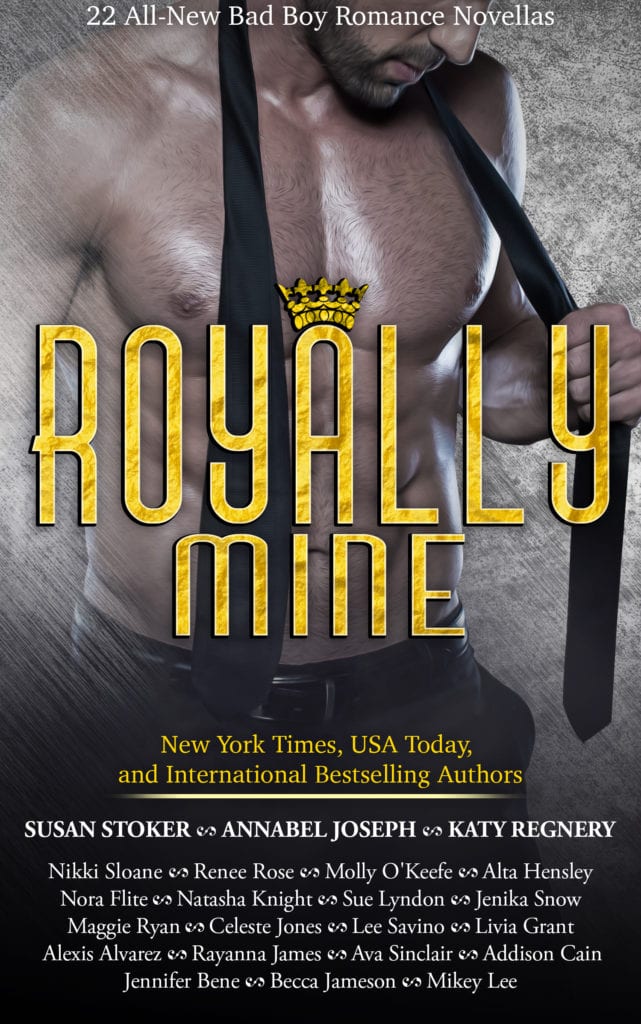 Royally Mine (boxed set blurb)
Powerful kings. Dirty-talking princes. Insatiable dukes.
They're ready to rule your heart.
Royally Mine is a sexy collection of bad boy romances featuring HOT royal heroes, brought to you by twenty-two New York Times, USA Today, and international bestselling authors. This deliciously naughty bundle of ALL-NEW standalone novellas stars panty-scorching kings, princes, and dukes who are used to being in command. Charge up your e-reader, clear your schedule, and put on your best tiara, because these royal bad boys are ready to conquer your heart while making you blush oh so hard.
Featured authors: Susan Stoker, Annabel Joseph, Katy Regnery, Nikki Sloane, Renee Rose, Molly O'Keefe, Alta Hensley, Nora Flite, Natasha Knight, Sue Lyndon, Jenika Snow, Maggie Ryan, Celeste Jones, Lee Savino, Livia Grant, Alexis Alvarez, Rayanna James, Ava Sinclair, Addison Cain, Jennifer Bene, Becca Jameson, Mikey Lee
Publisher's Note: The stories included in this smoking hot box set are MF and MFM pairings. Some contain kink. All will leave you breathlessly panting for more.
* * *
Teaser
"Let me get this straight. The queen of Sweden is summoning you to an audience, and you're going to blow her off?" I step close to him. One more step and my boobs would brush his chest.
Charm him.
He shrugs.
"You're not even interested in finding out why she wants to meet you?"
He dips his head, nuzzles my shoulder. "There are other things I'm interested in." His beautiful lips brush my skin and set my body buzzing. "So uptight. You need a good orgasm. I can help with that."
"Maybe later," I say in a voice as brisk as I can make it, ignoring the fact that my libido has gone from zero to one hundred in three seconds.
"I'll hold you to that," Theo says, and the promise makes me shiver.
I clear my throat and press on. "Your uncle is sick. He might die, and that leaves you in the line for the throne. You'll be crown prince."
"I don't want to be a prince," he murmurs. His hot breath licks up my skin. "I'm already god."
"You're not a god." I squeeze my arm between us, and push my glasses up my nose so I can give him a proper Mrs. Mavery glare. "You're a male Paris Hilton."
"Thank you," he smirks.
"Cut it out," I push at his chest. His rock hard, water slick chest that couldn't be more perfect if it was carved by Michaelangelo. "This playboy act has to get old. Even I can tell you're smarter than this."
***
Personally, I am already drooling over Prince Theo, and I know you're all going to love this royal bad boy too! Today is RELEASE DAY (three cheers again!) but if you hurry you can still get it for 99c this week. <3
Amazon → http://amzn.to/2u1nBa4
iBooks → http://apple.co/2u6yuZo
Nook → http://bit.ly/2uFaeud
Not only is it on sale this weeks, but there are also a TON of exciting giveaways happening around this boxset that I want to make sure you lovelies get the chance to enter & win! <3
***
Want more of Lee Savino?
Lee is a USA today bestselling author. She's also a mom and a choco-holic. She's written a bunch of books—all of them are "smexy" romance. Smexy, as in "smart and sexy."
Download a free book from www.leesavino.com.