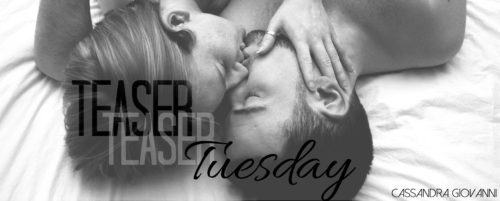 We're back to the normal fun of #TeaserTuesday this week, but there's nothing average about the two hotties in Tara Crescent's latest sizzling menage 'Her Cocky Doctors'. I've always loved Tara's brand of dirty that always ends with the fuzzy HEA that has you grinning ear to ear, and this book is no exception. Just read these mini-teasers!!
***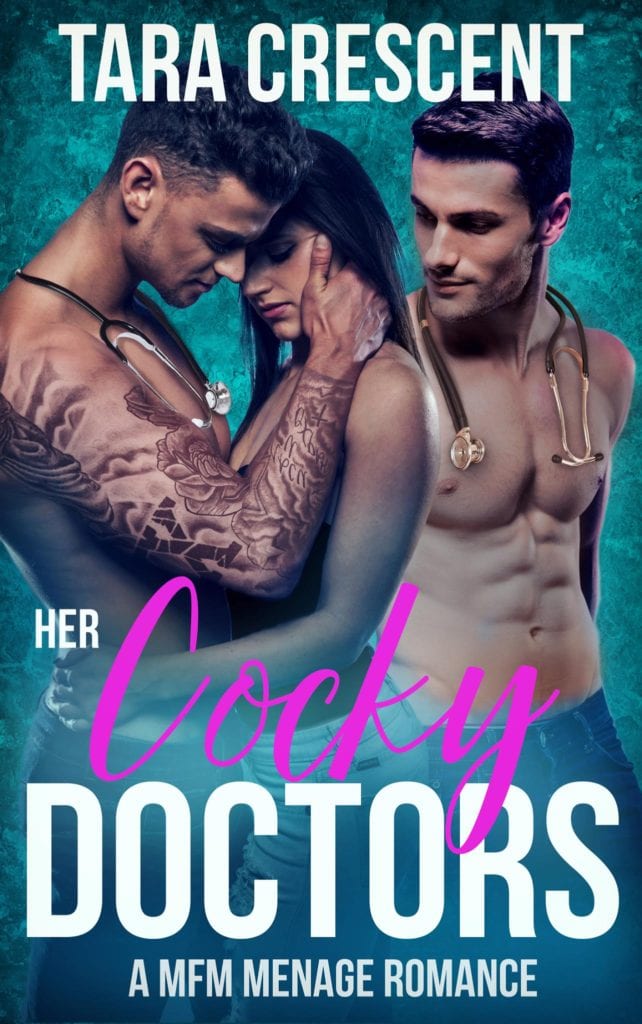 Her Cocky Doctors
Happy Endings? I don't think so.
In the town of Goat, Oregon, the two cocky doctors who run the Clinic of Love don't just provide medical care.
Nope. These doctors are notorious for their bedside manner, if you know what I mean. Women come in desperate for a good time, and leave extra-satisfied. 
Not me. 
I'm a reporter. Doctors like Declan Wilde and Blake Thorpe give the entire medical profession a bad name, and I'm determined to expose them.
Even if having a threesome is prominently featured on my Sex Bucket List. 
Even if their washboard abs cause my girl-bits to spontaneously combust.
Even if I really want to make a special appointment with them, and I would love a 'happy ending' of my own.
This story is going to get written. I will destroy these cocky doctors.
***
Teasers
She's naked under the thin hospital gown, lying on her back, her feet dangling next to the stirrups at the end of the examination table.
Christmas came early this year.
She's beautiful, and she's ours. I want her soft pouty pink lips wrapped around my cock. I want to hear her moan my name, her large brown eyes hazy with need. I want to feel her muscles tremble as we make her come, over and over again.
I exchange a glance with Blake as the two of us move inside the room. When she hears us, her breathing quickens, but she stays where she is.
"Ms. Davey," I greet her, my gaze drawn to her round breasts. I can see the outline of her nipples under the thin robe, firm and erect, and my cock hardens in response. "What brings you in today?"
Her cheeks are pink and flushed. "I'd like the special service, Doctor," she whispers. "Will you make me feel good?"
Make me feel good. That's the code phrase. Lana Davey isn't here for a routine examination. She's here for the extra service this clinic offers. She's here for a happy ending.
***
Declan doesn't reply right away. He bends to pick up the sheet, and my heart stops beating.
Because he's holding my Sex Bucket List in his hands.
And judging from the way his eyes widen, he's reading it.
Ouch.
A slow smile spreads across his face. "Writers are far more interesting than I would have imagined," he says, handing the sheet to Blake, who takes it from him with a raised eyebrow. "Don't you think, Blake?"
My cheeks are hot with embarrassment.
Blake scans the list and looks up, his eyes dancing with merriment. "You have threesome on here twice," he says.
My only option is to tough it out. I lift my head up and look steadily at the two men. "Can I have my list back?"
"Of course." Blake hands it to me. "And if you're interested in crossing items off the bucket list," he says, his voice silky-smooth, "Declan and I are happy to help you out."
Work-Lana would decline, sternly reminding herself that she's here for a story and nothing else.
I'm tired of Work-Lana. She never has any fun. A devil-may-care attitude fills me. These guys want to up the ante? I'm on. "Yeah right," I scoff. "Sure. You're all gung-ho now, but any suggestion of your swords touching and I bet you twenty bucks that you'll run away in panic."
Declan wordlessly takes a twenty dollar bill from his wallet and sets it on the table.
***
OH. MY. GOD.  I absolutely love this story, it's got medical play + menage + hot guys + Tara's witty dialogue and I hate that it's waiting for me on my kindle and mocking me as I try to be a responsible adult. ADULTING SUCKS! Hopefully you don't have to wait to snag this book, because it is *delicious* and will give you all warm fuzzies… and tingles. Enjoy!
***
Want more of Tara Crescent?
Tara Crescent writes steamy contemporary romances for readers who like hot, dominant heroes and strong, sassy heroines. When she's not writing, she can be found curled up on a couch with a good book, often with a cat on her lap. She lives in Toronto.