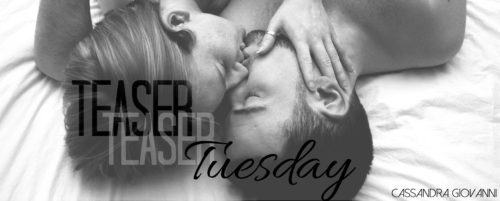 Lovelies, I have to tell you that 'Dark Side of the Sun' has all of the naughty, fun sexiness of an old school regency romance – except put through the twisted, dark filter of Addison's glorious mind. She nails every single aspect of this story, and I felt so fortunate to get to read it. You will LOVE Gregory Harrow's unapologetic darkness, you'll adore Arabella's tragically dark history and her beautiful optimism… and the BEST PART? It has one of the most perfect HEA endings. You will seriously cheer out loud at your kindle! Check it out!
***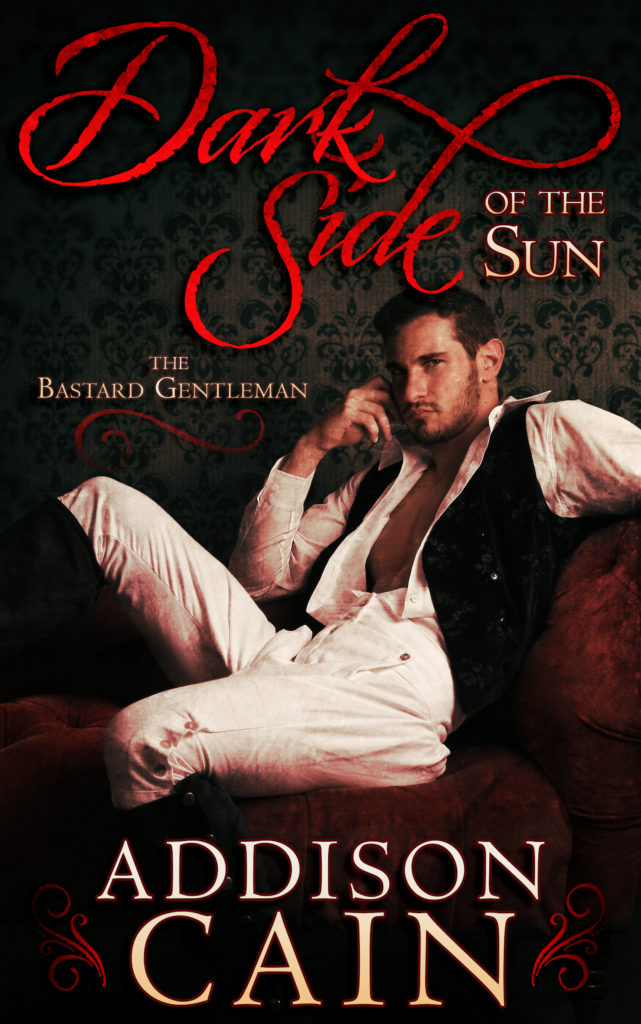 Dark Side of the Sun
Arabella, the Baroness of Iliffe, knows her life is nearing its end. For years the young widow has been hunted across England, running from her past, thrust onward into desolate wastes until there is nowhere else to hide. With the little time she has left, her desperation has driven her into the arms of an extremely sinister man who desires more than just her company.
Gregory Harrow, bastard born gentleman, takes what he wants, and is willing to use anyone and anything to achieve his aims. Greedy, cunning, cruel, he claims to love her, offers to kill for her, but lies come easily to his tongue.
She knows she cannot trust him, but making a deal with the devil might just be her only chance for survival.
DARK SIDE OF THE SUN is a full-length regency era dark romance from internationally bestselling author Addison Cain about depravity, desire, and acute retribution.
***
Teaser
The feeling of lips at her throat, the sounds he made, and an animal noise came from the woman. Her eyes were locked on the high ceiling where she tried to count the beams, but Arabella could not focus… because she felt him. She felt hands that were warm, that cupped the base of her skull, that traced the line of her spine.
The richness of Harrow's voice moved straight through her when he chided, "You are frightened."
Blinking in her stupor, two matching trails of tears fell down her cheeks. Frightened? She was terrified.
Releasing his hold on her hair, Gregory pulled her attention back to his face, hushed her, and delicately used his thumb to wipe the salty drips away. "Shhhhh."
The very second he stepped back, she thought it was over. But the sensation of relief vanished when Arabella realized he had drawn her body along with his. The devil's eyes never broke from hers, even as he settled back in the soft comfort of the large leather chair.
Holding her gaze steady, he guided her legs astride his lap.
At once the languorous slow moving hands were back. Warm, full lips almost brushed hers as Gregory caressed the nape of her neck, her shoulders, kneaded the swell of a hip, leaving her mind nothing but a mad fervor that mirrored the sound of the screaming wind against the house. His exploration went on for ages and over time coaxed the tension from her muscles, removed the frightened wideness of her eyes and replaced it with lowered lashes and softly parted lips.
She did not know what to do, unable to make herself move.
The sensations in her skin were absolutely foreign, heady. When Gregory's fingertips slid up the naked skin of her leg, bringing the hem of her nightgown higher, a strangled noise came from Arabella's throat. It pleased him, and she was rewarded with the lightest scraping of his nails against her sensitive hip.
When her eyes finally closed, the woman lost, his hand worked at the flap of his breeches. The arm cradling her lower back lifted her body high enough for Gregory to delve under the ruffles and lace. A touch, light as a feather, swept between her legs. A smear of feeling, and she tensed, bucked, and felt heavily drugged. Temple to his shoulder, certain too much wine, too many troubles had brought forth such a hallucination, Arabella found she did not know her body or why such feelings existed.
There was no shyness in the way he parted her folds, how fingertips tripped and toyed until she could feel a heartbeat growing between her legs.
Harrow's touch retreated. After fumbling between them something hard and smooth, something larger than fluttering fingers touched the place where all the growing intoxication seemed to center. Gripping the length of his cock, Gregory ran the swollen crown over drenched softness, enjoying the way Arabella's lashes flared, pleased with her sudden hitched breath. A furious burst of feeling rocked her as the instrument in his fist found where it sought to burrow. With an appreciative growl, Gregory urged her to lower, ignoring her slight resistance, until the throbbing head of his cock breached a passage so warm it melted for him.
Stretching her, filling her, arms slipped around her middle and he bore her down, Gregory taking on an expression of impassioned pain at her internal clench.
***
Ummm, I feel the urge to swoon. Don't you? HOLY HOTNESS. Gregory Harrow is this freaking amazing, and even more so, throughout the whole book. Quick dialogue, a dark story, all wrapped in this regency romance packaging that only Addison Cain could pull off. Seriously, if you haven't bought a copy or grabbed it for FREE on Kindle Unlimited, you need to 1-click it right now!
Amazon: BUY NOW!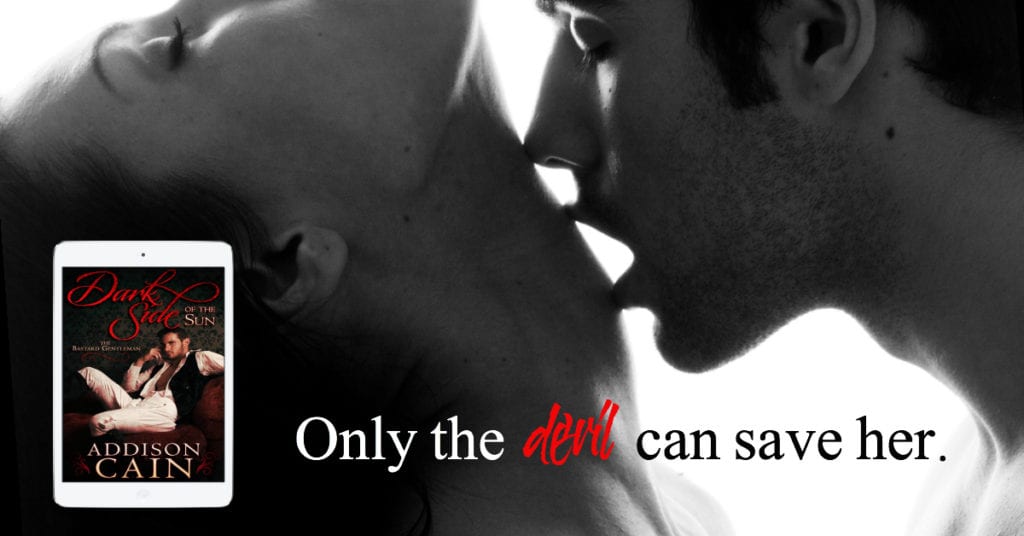 ***
Want more of Addison Cain?
Addison L. Cain was born in sunny California, but found herself drawn to dwell in older, history-rich places. Japan, Ireland, Qatar, and now Washington DC,Addison is always on the move, always eager to immerse herself in new cultures and people. Her stories reflect the antiquities she loves: deep and sometimes very dark. Driven to push her characters beyond the pale, Addison's books are not for the faint of heart.
An alumni of California State University Fullerton, she earned a degree in Japanese and spent years in Asia studying indigenous Japanese religion. Primeval forests and worn pathways have led to her obsession with gardening. Her Great Dane approves, loping around the yard and getting into mischief. Unfortunately the cat has to watch from a window, and because Addison is a total sucker for his sad golden eyes, he gets hours of belly rubs and too many treats.