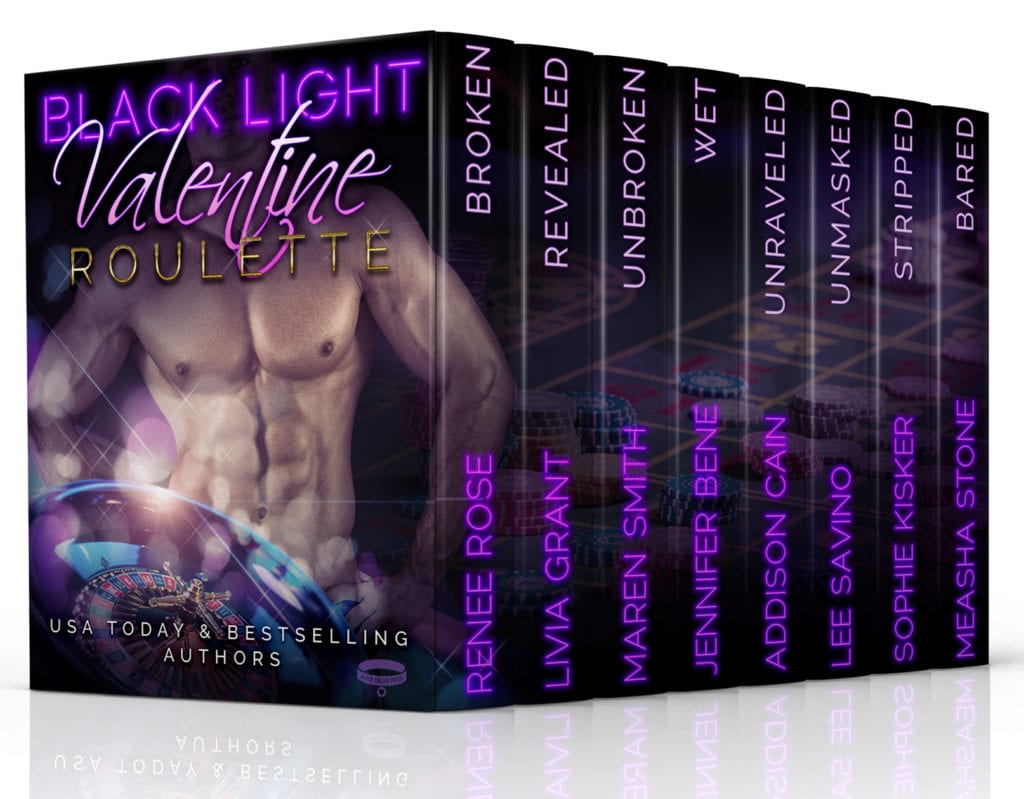 Black Light: Valentine Roulette is LIVE, but the fun isn't over!
Only $2.99 for a limited time! Get your copy now!
To celebrate the countdown to Valentine Roulette and our release weekend, I'm sharing burning hot snippets from each of these incredible books in the box set! Each and every one is kinky, dirty, and so much fun – and I hope you all love it! It's here now, but we're just starting to celebrate as this hot anthology is hitting Kindles everywhere. Today we're going to take a special look at Sophie Kisker's contribution to the set 'Stripped.'
At the end of the night,
will a secret strip away their chance at love?
***
Blurb for 'Stripped'
Adam Quinn and Sari Friesen have been matched for Valentine Roulette. He likes her curves and her smile. She likes his dark eyes and his self-assured dominance.
But life hasn't been easy for either of them, and trust comes slowly. If they can work together for three hours as dom and sub, through a hot wax scene, a whipping, and a capture fantasy, they'll win the prize.
But the secret that one of them is keeping threatens to strip away the tenuous attraction that's growing with every spank, whimper, and moan. At the end of the night, will there be anything left to salvage for a future?
***
Teaser
His warm hand caressed her skin with long strokes and gentle squeezes. She made little noises of appreciation. Her legs relaxed and fell apart. He must have taken that as inspiration, for his hand dipped between her legs, cupping her smooth mound. She breathed out a sigh.
"I hope to get to know this pussy better by the end of the night," he whispered. She tensed without meaning to and then made herself relax, hoping he hadn't noticed. But apparently, he did pay close attention.
"Why the fear?"
Because…
"Because I'm just a little nervous, sir. I've mostly played with people I knew well. This is new."
Liar, liar, pants on fire…
***
About the Author
Sophie Kisker started composing stories of domination and submission long ago, but it wasn't until she met others on the internet that she realized she wasn't alone.   Her stories are sometimes dark and uncomfortable, but they will always have a happy ending. She's a true believer that romantic love and a whip can make a great combination.
During the day, Sophie is busy with job and family, but in the evening, her laptop comes out, her imagination gets going, and she morphs into a recluse who would be happy living in a cave, as long as it had wireless internet and an espresso machine.
Sign up for her newsletter here!
***
Still curious about Black Light: Valentine Roulette?
Well, first, stay tuned every day this week for more HOT sneak peeks of these books. Don't forget to 1-click and get your copy now!, and remember that you can still enter our giveaway right here!
Black Light: Valentine Roulette Blurb
Get ready to explore some of your naughtiest desires while you celebrate Valentine's Day with eight kinky stories from eight USA Today and international bestselling authors! Black Light is the most exclusive BDSM club in Washington, D.C. and for one night they're changing the rules of play to entertain their members with a game of chance – Valentine Roulette. Challenge and adventure awaits as these sexy dominants spin to win their submissives, and the subs spin to choose how they will play. Their prize if they last the night? One free month at Black Light, and for some of our daring participants… even a chance at love.
Three hours. Four hard limits. Eight sexy stories.
Are you brave enough to spin the wheel?
FEATURING AUTHORS: Renee Rose • Livia Grant • Maren Smith • Jennifer Bene • Addison Cain • Lee Savino • Sophie Kisker • Measha Stone