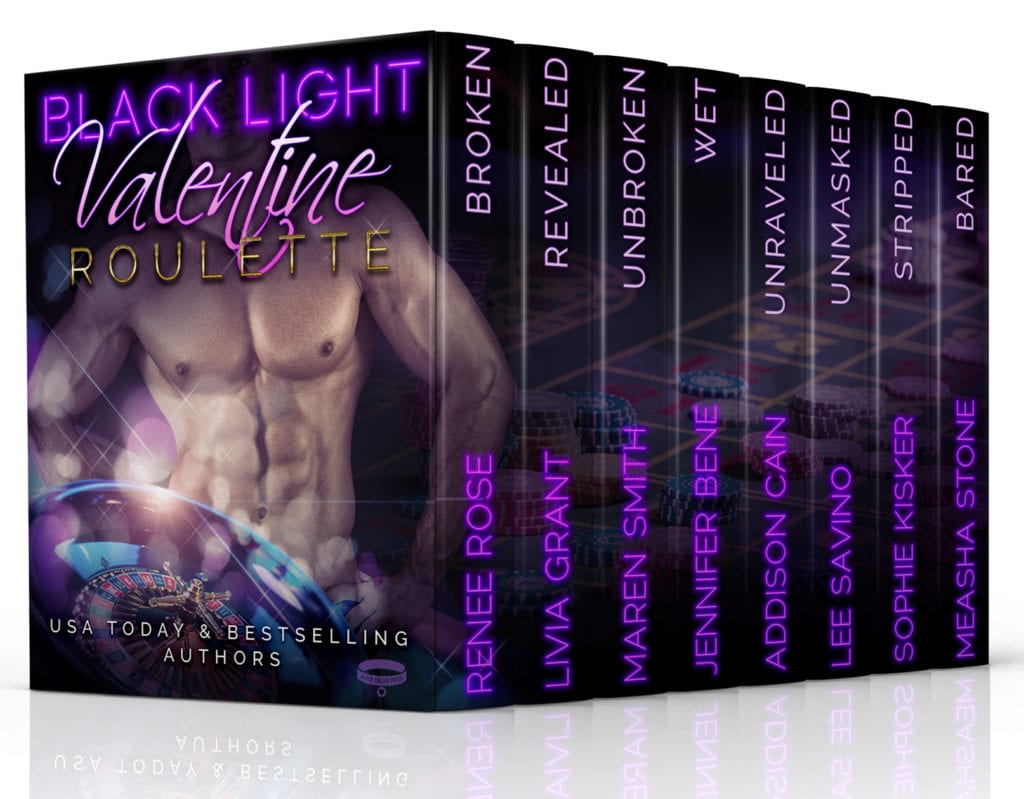 Black Light: Valentine Roulette is LIVE, but the fun isn't over!
Only $2.99 for a limited time! Get your copy now!
To celebrate the countdown to Valentine Roulette and our release weekend, I'm sharing burning hot snippets from each of these incredible books in the box set! Each and every one is kinky, dirty, and so much fun – and I hope you all love it! It's here now, but we're just starting to celebrate as this hot anthology is hitting Kindles everywhere. Today we're going to take a special look at Measha Stone's contribution to the set 'Bared.'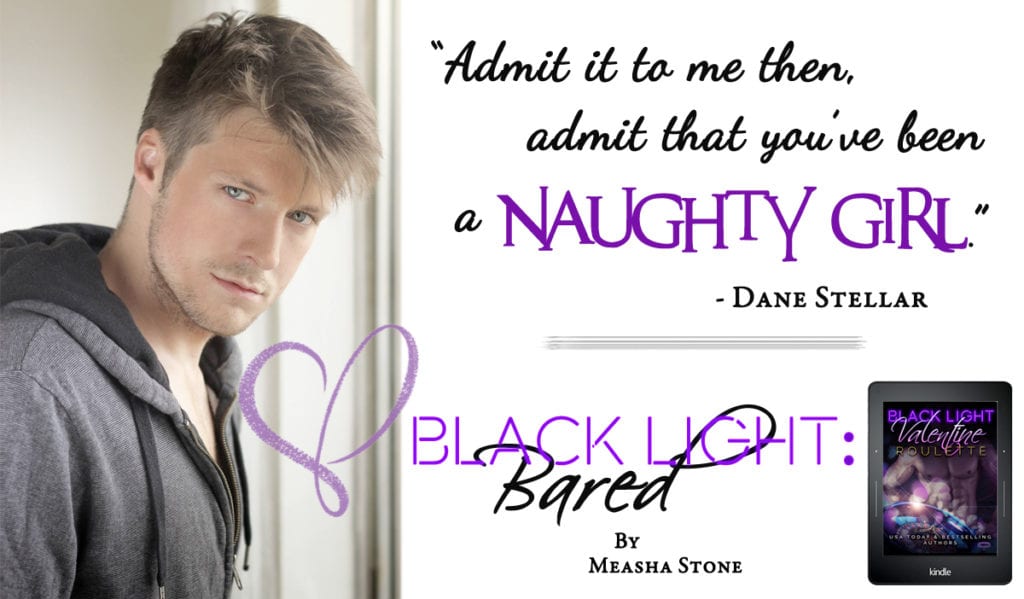 A spin of the wheel can't change their history,
but it might just give them a chance at a future.
***
Blurb for 'Bared'
Riley can't remember the last time she played with a Top she couldn't manipulate. That's the problem. She wants something more than topping from the bottom, and she's convinced herself that the Valentine Roulette event is the place to find it.
But when she's paired up with her ex, her confidence waivers. Dane knows her too well, has been watching her for months, and he's not going to give up this time. Will he be able to breach that wall she's been building since she ran out on him all those years ago? Or will she run again, lose the game, and her chance at love?
***
Teaser
With a light shove, he let go of her hair and stood in front of her, again appraising her. "I've always loved your tits, Riley." He cradled them in his hands, assessing the weight of them. "Nice and heavy. Do they take a nice beating?" One more thing on the list of things he'd wanted to try, but she'd been afraid. What if she had liked it? What would that have meant for them? "I asked you a question, girl. Answer me." He slapped her hip.
She caught herself before losing her balance and glared at him.
His response to her expression came swiftly. "If you get off the chair, you'll get a whipping. In front of everyone. You'll have to tell them all you didn't obey, you didn't listen and ask them to watch your punishment. That's what's going to happen if you don't follow directions."
"You almost knocked me off," she snapped, righting her position to get her balance back.
His arm wrapped around her while he positioned himself to her side, keeping her front side exposed but secured on the chair. A volley of hard slaps to the front of her thighs had her dancing in his grasp and yelping. "Your job is to stay put. If you can't do that, then you'll be begging for an audience to watch your belting."
"Okay!" She squeezed her eyes shut and calmed her breathing. No way she could do that. Having an audience for a punishment was one thing, having to handpick that audience would be too much.
"Good." His palms ran over her thighs, soothing away the burn. "Now. Teasing. That's your favorite thing, so we'll start there." He plucked a black marker from his back pocket and uncapped it. "Don't worry pretty girl, it's washable. I wouldn't want to mark this beautiful skin for too long."
The chilled tip of the marker pressed into her skin. Dragging the marker one way then the other across her chest, she had a good idea of what he was doing. But he didn't leave her in the dark either.
Once done, he stepped back and looked at his handy work. "Perfect." He didn't recap the marker though. "Do you want to know what I wrote?"
"No, sir." She swallowed. Hearing him say it, confirming it, wouldn't make it easier.
"Sure you do, but you're afraid. No worries, I'm going to tell you anyway." He pressed a fingertip to the marking and checked his finger. "All dry." A grin pulled at his lips. "T-E-A-S-E." He traced each letter with his fingertip as he spelled out the word. Her chest constricted, her breath caught, but she managed not to physically flinch.
Riley noticed a few girls walking past them pointing at her. They smiled, and the tall blonde in the middle giggled. Heat crawled up her neck and over her face. Calling her a tease was one thing, but now he'd labeled her – tagged her for everyone in the dungeon to see.
***
About the Author
Measha Stone lives in the western suburbs of Chicago with her husband and three children. While working toward her degree in Creative Writing from Southern New Hampshire University, she wrote mostly in the thriller genre, but her heart lies in Romance. BDSM Erotic Romance is where she lives and breathes, because what's pleasure without a little pain? When she's not writing, she's reading and goofing off with her kids.
***
Still curious about Black Light: Valentine Roulette?
Well, first, stay tuned every day this week for more HOT sneak peeks of these books. Don't forget to 1-click and get your copy now!, and remember that you can still enter our giveaway right here!
Black Light: Valentine Roulette Blurb
Get ready to explore some of your naughtiest desires while you celebrate Valentine's Day with eight kinky stories from eight USA Today and international bestselling authors! Black Light is the most exclusive BDSM club in Washington, D.C. and for one night they're changing the rules of play to entertain their members with a game of chance – Valentine Roulette. Challenge and adventure awaits as these sexy dominants spin to win their submissives, and the subs spin to choose how they will play. Their prize if they last the night? One free month at Black Light, and for some of our daring participants… even a chance at love.
Three hours. Four hard limits. Eight sexy stories.
Are you brave enough to spin the wheel?
FEATURING AUTHORS: Renee Rose • Livia Grant • Maren Smith • Jennifer Bene • Addison Cain • Lee Savino • Sophie Kisker • Measha Stone