.•´¸.•*´¨) ¸.•*¨)
(¸.•´ (¸.•` ღ COVER REVEAL! BLACK LIGHT: VALENTINE ROULETTE ღ¨*.¸¸.*ˑ˞ ღ
Coming February 10th, just in time for Valentine's Day, the Black Light Series is bringing you a deviously kinky anthology from eight USA Today and International Bestselling Authors sure to fulfill all of your deepest and darkest fantasies! With another searingly hot cover from Eris Adderly, there should be no doubt in your mind that the stories in these pages are going to singe your fingers. Just a couple of weeks to go, lovelies! So, share, share, share! <3
INCLUDES: Renee Rose, Livia Grant, Maren Smith, Jennifer Bene, Addison Cain, Lee Savino, Sophie Kisker, and Measha Stone!
Keep reading for the official blurb!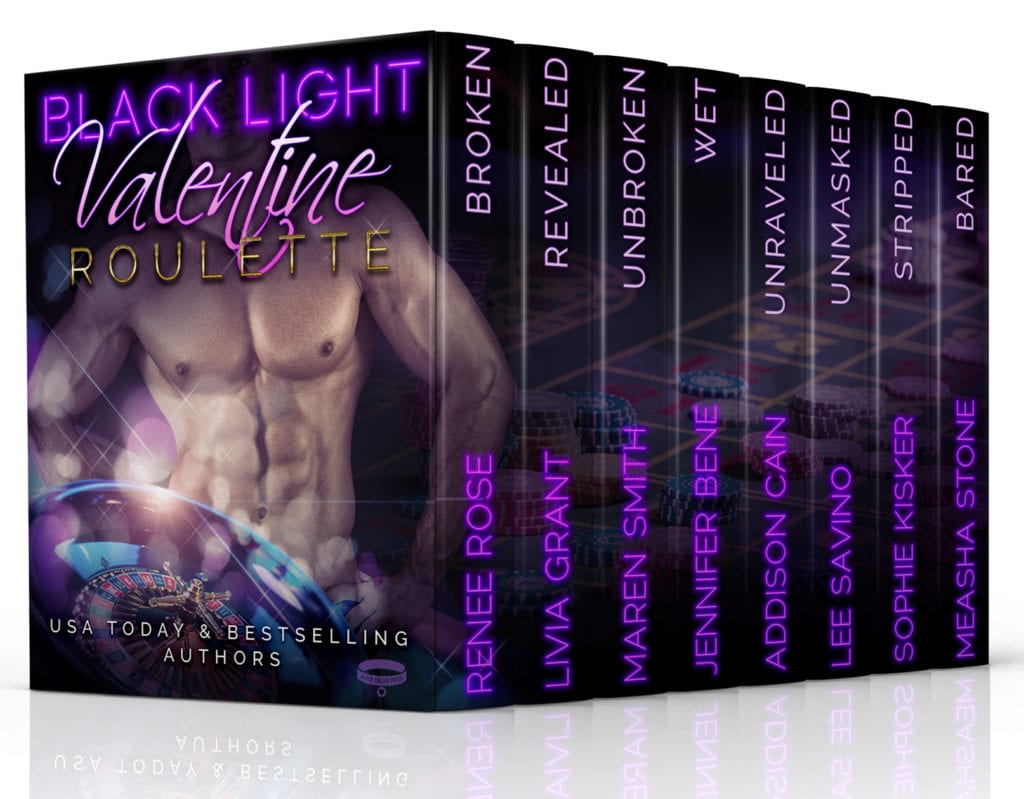 Cover from: http://erisadderly.com/ebook-cover-design-portfolio/
Black Light: Valentine Roulette blurb:
Get ready to explore some of your naughtiest desires while you celebrate Valentine's Day with eight kinky stories from eight USA Today and international bestselling authors! Black Light is the most exclusive BDSM club in Washington, D.C. and for one night they're changing the rules of play to entertain their members with a game of chance – Valentine Roulette. Challenge and adventure awaits as these sexy dominants spin to win their submissives, and the subs spin to choose how they will play. Their prize if they last the night? One free month at Black Light, and for some of our daring participants… even a chance at love.
Three hours. Four hard limits. Eight sexy stories.
Are you brave enough to spin the wheel?
***
Not only is this anthology deliriously hot, but we are having all kinds of fun with it! My story 'Wet' is definitely out of my norm, but my fellow authors insist they love it! What will you think of Alexander Reed and Sienna Davis?
Check out the blurb for Wet below:
Sienna doesn't like to talk when she plays at a club. She likes to escape, to be treated like an object so she doesn't have to think. It's nice, it's easy, and she can do it with just about anyone… or so she thought.
When she gets paired with Alexander, a Daddy Dom who insists on calling her 'little girl' and making her talk, she realizes that spinning a giant water tank for breath play is the least of her worries. Now, with every unanswered question, she's plunged into icy water – but the tank isn't the only reason she's wet.
Pleasure and pain give Sienna's temper a voice, but will it force her to connect with herself and the man whose talented hands she's beginning to crave – or will she break under his touch? And if she does shatter, will Alexander be able to put his little girl back together?