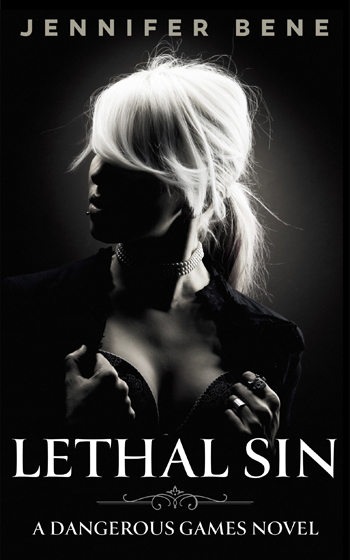 Well, lookie here. 'Lethal Sin' is available for pre-order on Amazon for $2.99, right over here, orrrrrr you could just get it for FREE right now by signing up for my mailing list. That's right, free. This is the first book in my Dangerous Games series and I wrote it with the idea that I wanted to give something back to my loyal readers by giving them a free book. I didn't know it was going to turn into a series when I started it, but I love this world too much to let go of it. It's dark, gritty, and dangerous – and if you know anything about my work, you know that's what I'm all about!
If you're already on my mailing list, it's probably snuggled close in your inbox already, or it could be waiting on your ereader! All I ask is that if you like it, go ahead and leave me a review! It's the best way to support any author you enjoy!
---
Curious? Check out the blurb for 'Lethal Sin':
The safest kind of love for Camille Devereaux has always been none at all. No attachments. No friends. No family. Nothing more than a one night stand whenever the itch got too strong to scratch by herself – and it always worked for her. She was one of the best free agents in the business. If you wanted intel on someone, she could get it. If you wanted a sticky situation resolved, she could fix it. And if you wanted someone to quietly disappear? Well, for the right price she could do that too.
It all worked perfectly until one of the biggest crime lords in the city decided he wanted her on the payroll full-time. Exclusively on his payroll. At first she had refused, but then he found a weak spot that even Camille hadn't known about, and once she knew? There was no saying 'no' to Patrick Callahan.
That was how she found herself on the wrong side of the gun, in a sticky situation of her own, on her knees before the head badass from a rival criminal organization – Mateo Salvai. All he wants when he first meets Camille is to get the answers his boss wants from her, using his own devious methods, but once he meets this feisty, strong woman, all his plans go out the window. He's fascinated by her, he craves her, and once he realizes she's his perfect match he knows he can't let her go.
Yet, the world they run in is dangerous and there are no easy options when they both report to powerful men bent on the other's destruction. Will Mateo break his loyalties to protect Camille, and will Camille let go of her long-held rules to let him help her?
Jump in to the criminal underworld of these two assassins and get ready for a no holds barred, sexy, intense rush to the explosive conclusion of 'Lethal Sin', book one of the Dangerous Games series!
---
Well, lovelies, I do hope you enjoy it! I had a blast writing it, and it's something I'm proud to have in all of your hands!