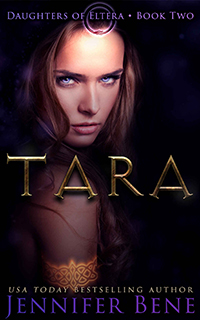 $4.99 / $12.99
Available in:

Kindle, Kindle Unlimited, Paperback

Published:

June 3, 2016
Amazon
Immortal. Enslaved by an ancient god. Can she ever be free?
Obey and survive. Those have been the words that Tara has lived by for over a thousand years. She is Faeoihn, an immortal warrior for the goddess Eltera, but none of that matters when she's cursed by one of the gods in her pantheon to serve as a slave for eternity.
All because of a single battle, lost over two millennia ago.
When an assassin appears in the dead of night to take her to a new master, she doesn't fight, because when you've lived in darkness for so long it's hard to believe in the light. But this handsome, all-too-mortal man, has his own demons and his kindness might just be the thing to wake Tara up.
No women. No kids.
Simple rules to live by, but they have let Alaric deal with the life he's been given. A life of privilege, money, and power – as long as he takes the lives he's told to. When his mentor sends him on a job to kill a man and kidnap a woman, he reluctantly accepts.
But once he's face to face with this beautiful, strange girl, he's not sure he can turn her over when the call finally comes. As Tara and Alaric clash, their pasts catch up to them in a whirlwind that is inescapable, forcing them to acknowledge the mistakes they've made and see that with each other they might find salvation.
Can Tara find the will to fight again? Can Alaric betray the only family he has left to protect her?
Discover their destiny in this exciting dark, paranormal romance!
Publisher's note: Tara is the second book in the Daughters of Eltera series. It contains dark themes, slavery, violence, damaged heroes, and gods and goddesses. If those things don't interest you, please seek another book.
Related