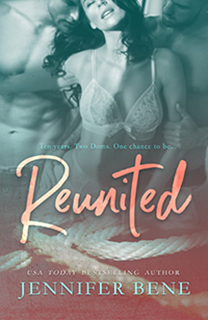 $2.99
Available in:

Kindle, Kindle Unlimited

Published:

February 18, 2016
Amazon
** 2017 Golden Flogger Award Nominee for Best BDSM Book of the Year – Ménage **
Note to self: Decisions are best made sober.
Unfortunately, Megan's meddling sister — and a bottle of wine — convince her to attend the high school reunion she'd planned to avoid completely. After all, no one wants to dwell on all of the terrible decisions they've made since graduation.
Starting with walking away from Whittaker High… and the love of her life.
Even after a decade, a bad marriage and a worse divorce can't stop Megan's heart from skipping when Eric walks in. Still dominant, sinfully hot, and somehow totally single. It's not a surprise to see Eric's long-time best friend, Colby Warren, arriving in his typical playboy fashion — but the plans they have for her are more than surprising.
They're tempting. Times two.
It could be another bad decision. A gamble that could end in another heartbreak in the halls of Whittaker High, but the things they're whispering in her ear promise a reunion she'll never forget.
Eric and Colby are twice the risk — with twice the reward.
And this time she's not walking away.
*** This second chance romance contains two hot Doms, MFM menage, BDSM, and a very happy extended ending with the included short story 'A Night Off' that gives these characters all the HEA your heart can handle!
Related