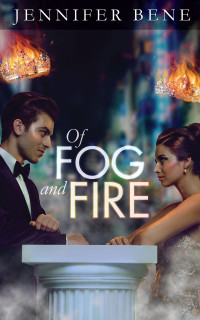 $3.99 / $6.99
Available in:

Kindle, Kindle Unlimited, Paperback

Published:

August 7, 2015
Amazon
Two complete stories, over 50,000 words! Full of political upheaval, old betrayals, daydreaming waitresses, and secret warriors in suits! Escape into 'Of Fog and Fire' Parts I and II!
Part I
Phee isn't what anyone would call normal. She grew up dreaming of faeries, forest queens, and kings of fire – all while living a dismal life in the thick fog south of downtown. Working in a café beneath the glittering glass towers of uptown, Phee is able to see glimpses of the sky and let her imagination run wild, and that's exactly what happens when she lays eyes on Bryant Holbrook.
Bryant is gorgeous, playful, and has a wicked side that Phee wants to get to know on an intimate level. It's just that downtowners aren't supposed to be with girls from the fog, and Phee really needs to keep her head out of the clouds and her hands off of him. But with one flash of his turquoise eyes Phee knows she can't back down from the challenge he offers.
As their worlds collide, Bryant and Phee will discover that they have more in common than they could have ever known. When push comes to shove will Phee give up on her fantasies and finally be a normal girl, or will she be the queen of fire her mother always told her she could be?
Part II
The world is new, the government is new, and her view of the city is new – but Phee is still the same. She was never cut out to be on the arm of a politician, never cut out to be the girl that has to watch her tongue, and never cut out to be in the spotlight. Her mother's fiery spirit is alive and well inside her, and Phee isn't letting go of her crown of fire anytime soon.
Bryant is attracting the attention of the opposition with his attempts to improve the southern districts of the city, which makes life extremely complicated for the happy couple just as they are starting to understand the new dynamic of their relationship. A dynamic where Phee wants Bryant's dominance in and out of the bedroom to help her keep them all out of trouble.
Except trouble is coming, and when Phee defies Bryant's wishes everything comes to an exciting conclusion in 'Of Fog and Fire'. Will Phee's rebellious spirit ruin everything, or will this king and queen of fire save the day one more time?
Related