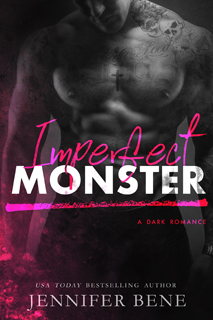 $4.99 / $10.99
Available in:

Kindle, Kindle Unlimited, Paperback

ISBN:

978-1-946722-20-1

Published:

January 20, 2018
Amazon
Cold, ruthless, vicious.
I'm Paulo García's monster, and I'd swallowed that bitter pill whole, learned to deal with it… until she stormed into the house like some avenging Valkyrie.
Brave, stupid, beautiful.
Nicky just wants to save her brother. She showed up with an envelope full of cash and a smart mouth and found herself in a den of monsters. I wish I could say I was the best of them, I wish I could say I wanted to protect her — but I'm far from perfect and she's so damn sweet.
And all I want is a taste before this world destroys her.
* * *
Sneak Peek
Over two years.
Thirty-one months of my life spent with these assholes, and I still didn't have enough to get out.
Taking another swig of tequila, I let it burn its way into my belly, numbing me further. The warm metal of my gun dug uncomfortably into my spine, but even that was dulled by the alcohol as I adjusted my seat on the couch.
Screw it.
I had more than a decent buzz going, which wasn't strictly by the book, but I could no longer bring myself to give a fuck about the drinking. Not when the bottle did such a good job of taking my mind off the rest of it. Off all of the terrible shit I'd done before this, and now…
Now, I'd done so much worse working for Paulo.
Related