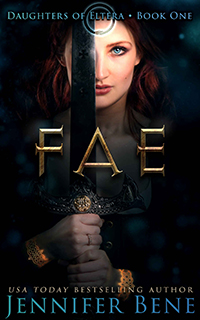 $4.99 / $12.99
Available in:

Kindle, Kindle Unlimited, Paperback

Published:

September 24, 2015
Amazon
Chosen. Cursed. Enslaved.
Fae just wants to live day to day. She doesn't want to think about a future filled with another two thousand years of servitude. She doesn't want to think about her past, or the way she failed the goddess she swore to serve forever. And she really doesn't want to think about the men and women that suffer around her every day while she can't protect them – no matter how hard she tries.
She's definitely not ready when her entire world is turned upside down and the one person she would never choose to spend a minute with shows up.
After millennia of suffering, is it even possible to trust someone? To let herself believe that good still exists?
Damned. Cursed. Corrupted.
Kiernan doesn't know what he wants. After centuries of bloodshed, and war, and killing – he's waking up, and if the things he dreams in his sleep were only nightmares that would be one thing, but they're all real.
The only light in his darkness is a girl inside a glass, and he can't stop watching her. Her bravery fascinates him, inspires him. Her suffering is what he deserves.
Yet some part of him craves more, craves something good. But is there anything that can be done when gods have used you as pawns in their own war? Can good things come out of evil?
NOTE: Fae is the first book in the Daughters of Eltera series. It contains dark themes, slavery, violence, damaged heroes, and gods and goddesses.
Related